Archive for February, 2013
Friday, February 8th, 2013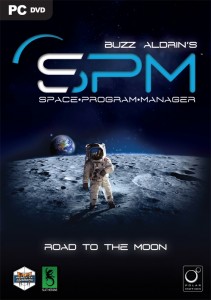 Next Destination: space.
Buzz Aldrin's Space Program Manager first look
"We are going to the moon, we shall go to the planets, we shall travel to the stars just as today we go from Liverpool to New York, easily, rapidly, surely, and the oceans of space will be crossed like the seas of the moon".
Jules Verne, From the Earth to the Moon, Ch. XIX (1865)
Epsom, 7 February 2013 – Buzz Aldrin's Space Program Manager is the ultimate game of space exploration. Releasing on PC, Mac and iPad in June this year, this exciting title will take players on a journey of exploration and space conquest from the dawn of human spaceflight to modern space exploration vehicles and on to the future.
To ensure the accuracy and authenticity of the game it is being developed in consultation with Dr. Buzz Aldrin, former U.S. Air Force combat pilot (66 missions in Korea) and NASA astronaut, who took part in the first Moon landing mission and became the second human being to walk on the Moon.
"Working with Buzz Aldrin in this project is a fascinating journey", said Ignacio Liverotti, Lead Developer at Polar Motion, developer of the game. "As a fan of space exploration, it's a dream to be able to work on such an exciting title and having Dr. Aldrin as a consultant".
In Buzz Aldrin's Space Program Manager players are in charge of carefully managing the agency's budget by opening programs, spending R&D funds on improving the hardware, recruiting personnel and astronauts and launching space missions. Road to the Moon is the first chapter in a series of three engaging games that will take players on a fantastic journey.
"We have been branching out to new platforms and settings recently", said Iain McNeil, Development Director of the Slitherine Group. "Games such as Commander the Great War and Battle Academy on iPad prove we can expand our audience by widening our range of titles. Buzz Aldrin's Space Program Manager is certainly a great example on how we can attract new players, but stick to our roots of intelligent gameplay and in-depth, well researched content".
For photos and Game Features click here
Slitherine is part of the Slitherine Group
About the Slitherine Group
The Slitherine Group is the world's leading producer and publisher of digital wargames and strategy games. Under the Slitherine (www.slitherine.com), Matrix Games (www.matrixgames.com) and Ageod (www.ageod.com) brands it has published literally hundreds of games, with many award-winning titles in its portfolio and spanning all digital platforms, from home consoles to modern Smartphone's and Tablets. Slitherine is also involved with book publishing, board gaming and works with a wide array of key licensing partners, such as HISTORY®, MILITARY HISTORY®, Horrible Histories™, Showtime, BBC, Osprey, Scholastic, Buzz Aldrin Enterprises and many others to deliver the best blend of historical accuracy in an exciting and entertaining way. Together the Group companies form the world's largest organization specializing in this important and vibrant niche. The Slitherine Group's mission over the coming years is to lead the way in innovation and growth in an ever expanding segment of the entertainment industry.
###
Press Materials: All press materials are available from the Slitherine Group Press Media Area or by contacting press@matrixgames.com.