09 Sep

Aldrin takes GCDS on a trip to the Moon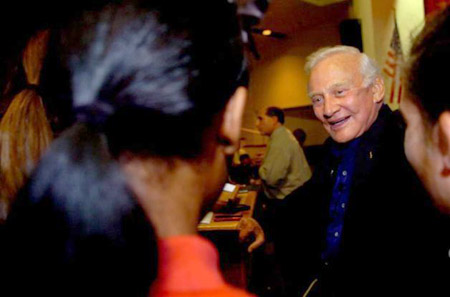 Asked one time what he thought made an iconic photo of him walking on the Moon's surface so special, astronaut Buzz Aldrin summed it up in three words: "Location, location, location."
Aldrin's sense of humor was on display Wednesday when he gave a 45-minute talk with a slideshow about his experiences on the 1969 Apollo mission to middle school students at Greenwich Country Day School.
Aldrin was the pilot of the lunar module on Apollo 11, the first manned moon landing in history. On July 20, 1969, he descended a ladder to the moon's surface behind mission commander Neil Armstrong, who, moments later, uttered the famous words: "That's one small step for a man; one giant leap for mankind."
The lesser-known first words that Aldrin spoke upon setting foot on the moon: "Magnificent desolation."
"Neil had already stolen the classic line," Aldrin joked Wednesday.
Aldrin said the two-word phrase, which is the title of his new memoir, describes both the historical significance of landing on the moon and what he said was the stunning bareness of the lunar surface.
"I said `magnificent,' because of humankind progressing to this point — a magnificent achievement," Aldrin recounted Wednesday. "But what we looked out and saw was so desolate. I have never seen anything so lifeless."
The presentation in the GCDS Locke Center featured a slideshow of photos, from his spacesuit patch of an Eagle carrying an olive branch to the moon, to a shot of him and Armstrong rehearsing the landing in bulky white space gear.
"That backpack," he said, pointing to the photo, "if that was real, we would have weighed 360 pounds here on Earth." Fortunately, the moon's gravity is about a sixth as strong. "So on the moon, we weighed 60 pounds."
In his speech, Aldrin recalled the fanfare that greeted the Apollo crew after they returned.
"We toured around the world for 45 days in 26 different countries (meeting) kings and queens, and speeches, and parades," Aldrin remembered, before shaking his and adding, "God, was I tired."
The appearance also included a question-answer session by students.
Asked what he did during the long lunar flight, Aldrin said he kept busy with experiments and observations. Other times, the astronauts just looked out the window and "thought about things," he added.
"It's boredom, punctuated by pure panic, in case something goes wrong," he said.
During his talk, Aldrin expressed support for President Barack Obama's plan to abort former President George W. Bush's goal of returning to the moon, in favor of using public and private flights to other destinations in space.
The Obama plan has the goal of one day leading American astronauts to land on an asteroid and later, Mars, relying on rockets and propulsion still to be built. It has been criticized by some astronauts, including Armstrong, who believe the changes will deal a staggering blow to the nation's space program.
But Aldrin believes it will open the door to new frontiers.
The astronaut recounted on Wednesday how former President John F. Kennedy on May 25, 1961, announced a goal of sending an American safely to the Moon before the end of that decade.
Aldrin said he hopes to see Obama make a similar proclamation next May 25, the 50th anniversary of Kennedy's announcement. "It's not going to be about the moon" this time, Aldrin said. "It's going to be about Mars."
Read the original article at GreenwichTime.