23 Sep

Aldrin's big cake out of this world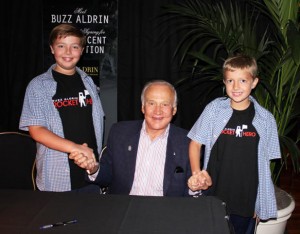 At age 80, astronaut Buzz Aldrin has seen the world from a lot of angles: he survived 66 combat missions over Korea and took a walk on the moon.
But the Luxor had a surprise for him on Saturday that added frosting on the cake to a life well lived.
At the end of "An Evening with Buzz Aldin," Luxor chefs rolled out a special 600-pound cake that included a large replica of a lunar lander as the centerpiece.
As an astronaut, he couldn't resist commenting on the electric-powered "Earth" that was revolving around the giant cake.
"Small detail," he said. "Wrong way."
Luxor chefs put almost 600 hours into creating the cake project, which was filmed by a TLC camera crew for a "Fabulous Cakes" episode.
Earlier in the evening, Aldrin told me about his Las Vegas days. He had taken gunnery training at Nellis Air Force Base before going to Korea and returned here after the war.
"I remember a lot of little nightclubs and you could gamble with 10-cent chips at a casino in North Las Vegas," he said.
"Being a Ph.D.," he said the idea of coming up with a system to beat the house appealed to him so much that he organized a plan based on cutting the odds.
In on the plot were five fellow Nellis pilots and they gave it several test runs, he said. But unlike the six Massachusetts Institute of Technology students who took Vegas casinos for millions in winnings, Aldrin's system didn't pan out.
"Thought about living here but I'm a scuba diver and that lake out there was just too cold," he said.
Read the original article at Las Vegas Review-Journal.