02 Sep

APC: Aldrin creates buzz at Microsoft partner confrence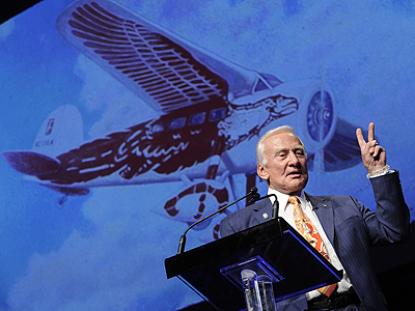 He was inspirational, he was funny, and he is a legend. Legendary astronaut, Dr Buzz Aldrin, had the Microsoft Australia Partner Conference in the palm of his hand.
What does Aldrin have in common with a Microsoft partner? Not much, but his insight was pretty clear – 'reach out and take in all the opportunities that come along'.
"It may not satisfy what you're looking for, but you are bound to find just what suits you," Aldrin told the crowd. "Each one of you can really look forward to your contribution as a partner with infinite possibilities." Aldrin's achievements in his life are quite varied. He was the second man to walk on the moon and he's appeared on Dancing with the Stars. The son of a pioneering aviation engineer, he first boarded a plane when he was two years old.
He's also dived deep to see the Titanic , ventured on an expedition to the North Pole and produced a record with rapper Snoop Dogg. "All you need is the rocket experience," he said.
Aldrin shed some details on the moon landing in 1969. Stepping out on to the powder-like lunar surface, the first words that came to Aldrin's mind were magnificent desolation, and an accomplishment as human beings.
At the time NASA estimated the astronauts had a 60 per cent chance of landing on the moon and a 95 per cent chance of returning to Earth safely. Aldrin also shared some of their technical concerns about several computer alarms in the space craft and overloading it with data deriving from landing radar to rendezvous radar. And the computer had very little memory.
"Fortunately, the team at mission control were able to decipher that it was a non-threatening computer overload problem," he said. "Just think of the complicated manoeuvres that were stored successfully in different programs of star sightings, philosophy, calculations, to change, to land on the moon, intercept the right orbit and come back home. We didn't have the kind of power that exists in these two different phones that I carry or bigger display systems.
"Technology is just astounding, what is available now in comparison to what we had, we've come along way and I just wish that we could develop rockets as fast as we can develop new cameras and phones."
Aldrin has been asked by many people over the years why the particular photograph of himself on the moon has gained so much popularity. "People ask me why it's so iconic and famous. I have three words – location, location, location," he said.
Aldrin posed the question how could he have achieved all that he has done?
"In life's endeavours we all come upon challenges, and just like Microsoft I feel that life has infinite possibilities. It is a challenge for all you folks, and as my namesake, Buzz Lightyear, says 'to infinity and beyond," he said. "We have the will and desire to take chances as well as use the most advanced technologies available. Anyone can achieve their goals and reach beyond their wildest imaginations.
He reiterated that a concerted team effort was crucial to success.
" I know the kind of results that can be achieved when we work together towards the same goal," he said. "When we apply our lives for a good purpose, we can have every expectation to achieve what we see as a possibility to discover and explore unknown frontiers, reach new destinations and reach for the stars."
Read the original article at ARN.