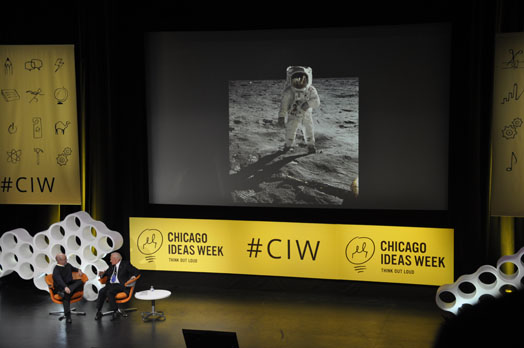 24 Oct

Buzz Aldrin revisits the moon in Chicago
Buzz Aldrin envisions the next boundary for people millions of miles away, Mars. Edwin Eugene "Buzz" Aldrin was the second person to walk on the moon in 1969 as part of the Apollo 11 mission. His book, "Mission to Mars: My Vision for Space Exploration" released earlier this year, details his reasons for exploration on Mars. At this point, science fiction for the first time was becoming science fact as " Wait, Wait Don't Tell Me" radio show host Peter Sagal explained it.
Aldrin spoke at Chicago Ideas Week, a program of 200 speakers that culminated with his talk Sunday and his hope for the future. History may have been different had it been for some small logistics. For one, the first trip to the moon may not have been on Apollo 11 had it not been for weight adjustments that made it lighter.
"They didn't say anything about walking around, kicking up dust. We could have landed and taken pictures," Aldrin said. Instead they sent out two men, Neil Armstrong and Aldrin. This led to the iconic picture of Aldrin in his space suit with a set of footsteps on the moon.
"Before this picture was taken, I was moving and Neil said, hey hold it," Aldrin said. "I didn't even hear the click because sound doesn't go through a vacuum." He still can't tell who is who in the iconic picture of him and Armstrong putting the American flag on the moon. They now have red stripes on the commander's spacesuit to differentiate the astronauts. The million dollar question though was how they made the decision of who would be the first person on the moon.
Aldrin was the first astronaut to train underwater, which gave him an edge on walking in zero-gravity. But it wasn't enough to get him on the moon first.
"Every space walker up to that point had always been the junior person so the commander could see what was going on and make decisions if he needed to," Aldrin said. In this particular case, they chose not to follow that precedent because of the importance of the mission. "Absolutely the right decision was made. The commander should do the symbolic command and go down in history that way," Aldrin said.
Aldrin has since written various books about his experience on the moon as well as his most recent one on mars. He said the U.S. should move in that direction because it's where the rest of the world is going and to maintain the country's innovation.
" It's crucial for us to maintain that kind of greatness," Aldrin said. " We are an exceptional country."
Even so, Aldrin said he himself wouldn't go to Mars because he doesn't go for the long-haul.
Read the Original Article at Medill Reports Chicago