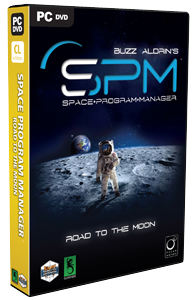 23 Oct

Buzz Aldrin's Space Program Manager Early Access Release
The Early Access Program is now available! Find out more HERE.
Buzz Aldrin's Space Program Manager (SPM) is the ultimate game of space exploration. It is the mid 1950s and the biggest nations in the world, in an effort to conquer outer space together, have established the Global Space Agency (GSA). You are in charge. It's your duty to carefully manage the agency's budget by opening programs, spending R&D funds on improving the hardware, recruiting personnel and astronauts and launching space missions in this realistic turn based strategy game.
You can now begin managing your very own space program by purchasing one of these Early Access Beta options for Buzz Aldrin's Space Program Manager:
○ Mercury Tier – $19.99 for the digital version of the beta supplied immediately and updated throughout, private beta forum access to report issues and discuss the game with the dev team and other early adopters and your name in the beta tester credits
○ Gemini Tier – $34.99 includes everything in the Mercury Tier plus a boxed copy of the game at final release (usually $44.99) which includes a personalised disk with your name and serial number plus a full colour manual/art book with a collection of gorgeous renders for the game.
○ Apollo Tier – $99.99 includes everything in the Gemini Tier plus your name and photo in the game as one of the SET personnel, a flight controller or an astronaut and the game sound track in MP3 format. Instead of a beta tester credit you will be listed as a contributor. This option will not be available post release. More information on this Tier is available HERE.