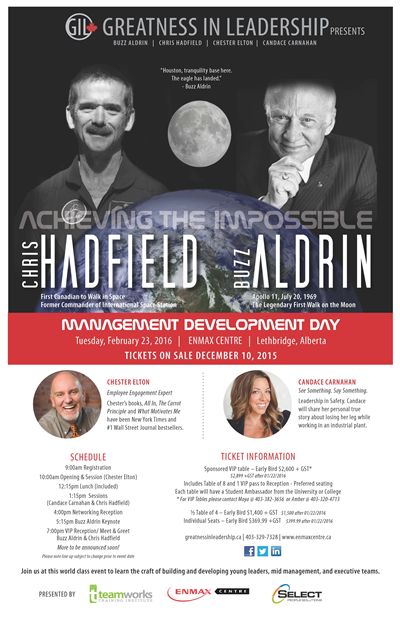 10 Dec

Buzz at Greatness in Leadership Management Development Day

Speech for Greatness in Leadership – Alberta, Canada

When:

February 23, 2016
Where:
ENMAX Centre
2510 Scenic Drive
Lethbridge, Alberta
Tickets:
Purchase tickets Online
Phone: (403) 329-7328
Ticket Office: ENMAX Centre – 2510 Scenic Drive S, Lethbridge, AB
OR Yates Memorial Theatre – 1002 4th Ave S, Lethbridge, AB

Legendary Astronauts Buzz Aldrin and Chris Hadfield Bring Pioneering Space Exploration Experiences Down to Earth at 2nd Greatness in Leadership Event, Feb. 23
Guests at the second Greatness in Leadership "Achieving the Impossible" Management Development Day in Lethbridge will be getting an out-of-this-world experience as legendary astronauts and pioneering space explorers Col. Chris Hadfield and Col. Buzz Aldrin visit Lethbridge to share the stage and talk about their own extraordinary stories of leadership.
The one-day business management event, hosted by Teamworks Training Institute, Select People Solutions, and the ENMAX Centre, takes place on Tuesday, February 23 at the ENMAX Centre and traditionally sells out. Information on ticket purchases follows, below.
"This year's keynote speakers have literally out-of-this-world reputations in their professions and are known internationally for their insights, innovation, and personal leadership in achieving the impossible – all themes that are relatable to our southern Alberta business and management community," Teamwork Training Ltd.'s President & CEO Ryan Miller said.
"The question we get consistently is '… how will you top last year?'," Miller said of the inaugural event, which sold out in one day, attracted thousands of guests and featured hockey legend Wayne Gretzky among a roster
of internationally-respected business leaders. "I think today's announcement is another extraordinary example of bringing world class knowledge to southern Alberta."
In addition to Aldrin and Hadfield, Miller said the roster includes business speakers whose expertise brings practical solutions and best practices specifically intended to resonate with a diverse cross section of the southern Alberta business community.
"Chester Elton, an employee engagement expert and bestselling author, is joining us to talk about how we as leaders can better retain and engage our employees," Miller said.
Elton has a local connection in that he is the grandson of former Lethbridge mayor David Elton. "He has travelled the world but his roots are close to our region and we know he is excited to return to our community."
As well Miller said that Candace Carnahan, known as the 'Prophetess of Safety" will talk about her experiences recovering from a tragic workplace accident as a young woman working in an industrial plant, and how she uses those lessons to, in turn, inspire audiences to dismantle the roadblocks that hinder efficiency.
"Employee safety is such an important topic for employers today. Candace is a great addition to the day," Miller said. Additional panel discussions are planned. Topics and speakers will be announced as they are confirmed, and closer to the event date.
Aldrin, now age 85, was among the first people in space in the 1960s and the second person to walk on the moon as part of the historic NASA Apollo 11 moon landing mission in July, 1969. In addition to a busy public speaking schedule, Aldrin is a proponent of a mission to Mars, among other projects.
Hadfield, inspired by the Apollo space program to become a Canadian Space Agency / NASA astronaut, has a stellar space exploration track record dating back more than 20 years that includes multiple Space Shuttle missions, space walks, commanding the International Space Station and gaining worldwide recognition for making the science of space more accessible through social media, music and live chats.
The two share many experiences: Both are noted military pilots. Both have advanced degrees in fields relating to aeronautics and mechanical engineering. Both have logged significant time outside their space capsules – Aldrin being among the first space walkers and Hadfield being the first Canadian to walk in space. They are both published authors and maintain busy schedules, speaking world-wide about their time in space — but very rarely are they together.
Having two legends on stage and thousands of people in the audience at the ENMAX Centre is not unusual for general manager Kim Gallucci to experience. The facility regularly hosts high profile sports and music talent, but Gallucci, who shares Miller's enthusiasm for the event, said the Greatness in Leadership event allows the facility to shine at a whole new level.
"Bringing highly-decorated North American astronauts and work class business leaders to our community and to have them share how they exemplified great leadership both on earth and in space is thrilling. Having them share their experiences is historic and will create a unique memory for southern Albertans of all ages – and we are going to make every element of that experience memorable for the speakers and our guests."