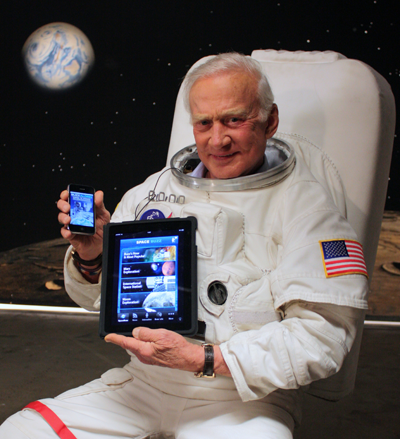 The APP Company announces the release of the iPad HD Version of the award winning Buzz Aldrin Portal To Science and Space Exploration.
Available for $3.99 at the Apple iTunes App Store. The #1 paid Science and Education App has gotten even better with this new iPad HD version.
You will love the new interface and our treatment of science and space news, video, photographs and multimedia content. HD makes this a dramatic experience that showcases all of the iPad features.
Buzz revealed that he was moved to design this app by the rush of interest in global space activity, particularly among young people. "It is these young people who are the generation that will take mankind's next steps in exploring the frontiers of space. This app is an amazing tool to both educate and entertain," said Buzz Aldrin.
"I am really excited about the iPad version of my App as it truly showcases the wealth of content we include. I have gathered a network of scientists, physicists, astronomers, astronauts and many others of the world's great minds to help me keep this app timely and relevant with lots of original daily content."
The Buzz Aldrin Portal to Science & Space Exploration is on iTunes and the iPhone App store!
This is a must-have App for space enthusiasts. Featuring both nostalgic look-backs on Buzz's famous space missions with video, photos and personal stories.
In addition, it features a comprehensive treatment of all major space initiatives and programs. Buzz offers his unique take on topics via video interviews, articles and journals.
Also, he has invited the top scientists, astronauts and well-known space enthusiasts in the world to participate in the App via our unique Round-table features. Round table experts will include space luminaries such as Carolyn Porco, Louis Friedman and Stephen Maran.
The App streams news from NASA, JPL and other major news sources and includes detailed background information on all space priorities via video, images, Twitter feeds, articles and astronaut journals.

The reviews are in and Buzz's App is out of this world!
Buzz Interview with iPhonelife.com
It's hard to discuss education without coming to the conclusion that today's students, particularly those studying the hard sciences here in America, are in need of help. I recently had the opportunity to talk about this with Buzz Aldrin, Lunar Module pilot for the Apollo 11 lunar mission and, along with Neil Armstrong, one of the first two men to walk on the moon.
Crazy Mike's Apps
When one thinks of an iPhone app about Buzz Aldrin, I think it is easy to say, "I guess everyone needs an app?" What could the Buzz Aldrin iPhone app possibly offer me? Then I opened Buzz's app and found a gorgeous user interface (UI) that was graphically by far one of the best I have seen in an iPhone app. This app is not just sexy pretty, but also filled with 'space lovers' content across the board. I do not fancy myself as a space enthusiast, but I found content like 'Space Buzz' to be intriguing and enlightening.
Gizmodo
If anyone deserves to have a personal iPhone app about the wonders of space, it's Buzz Aldrin. His $2 app is a grab bag of all things space; it has writings by Buzz's, including his take on the ISS, the future of manned spaceflight, exploring Mars, etc. It also has plenty of YouTube clips, including one from 2009 in which Buzz talks about the monolith on Mars' moon and others in which he talks about his time on Dancing with the Stars.

Get it on the app store today!