22 Dec

Buzz Aldrin Endorses Private Space Vehicles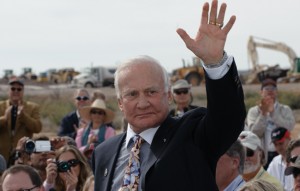 For the past year or so, we have witnessed the growth of a brave new industry. Spearheaded by Virgin Galactic, one of the many companies owned by Sir Richard Branson, the race for the creation of a civilian,
private space exploration program is now more exciting that ever.
Despite a few government officials though, no major figure has expressed his or her support for the actions undertaken by Virgin and its partners. Until now, that is, when Buzz Aldrin, the second man in the history of mankind to have set foot on the moon, publicly announced his endorsement of the Commercial Crew Development Program (CCDEV2) announced by NASA last week. Below you can read some excerpts of Aldrin's statement.
"I want to establish that I am personally delighted to see the expansion of private sector involvement in NASA's Commercial Crew Development-2 Program, through the recent announcement that Virgin Galactic will be partnering with Sierra Nevada Corporation, and with Orbital Sciences Corporation, in this important step to commercialize access to space – for both civil space, and for the emerging space tourism business."
"I would like to endorse this kind of approach as the right direction for our future in human space flight – in partnership with NASA, as a cost effective means of meeting our civil space needs, while also providing the foundation for expanded commercial access to space for the private sector, and enabling the eventual expansion of humankind beyond the bounds of Low Earth Orbit."
CCDEV2 is a program meant to establish the grounds for the private manufacturing of the first commercial space vehicles. The project calls for the creation of a space craft (to be used for orbital flights) which will feature reusable lifting-wing bodies and will be capable of runway landings.
Read the Original Article at Autoevolution.com