04 Jun

Buzz Aldrin returns home to Montclair

Buzz Aldrin has traveled a great deal in his life, from Mountainside Hospital, through the Montclair school system, on to the U.S. Military Academy, the Korean War, Germany and, famously, the surface of the moon.

On Sunday, Aldrin landed home.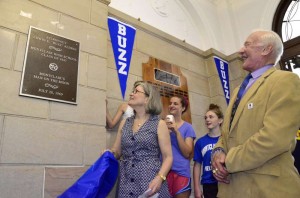 Montclair's native son was honored this morning at Montclair High School in an event organized by the Montclair Fund for Educational Excellence. There, Aldrin was honored with a plaque at the school's entrance, the Montclair Mounties' original 1946 state championship football trophy, an honorary Boy Scout Troop 12 neckerchief and a key to the township.
"We have not done this before, but certainly Mr. Aldrin, of any citizen of this town, deserves it," Mayor Robert Jackson said upon presenting Aldrin with the key. "A small token to a native son of Montclair, a giant expression of awe, gratitude, and love to an American hero."
Aldrin, in self-deprecating fashion, shared some of his fondest memories of growing up in Montclair, from his two seasons on the football team to his classmates and teachers through the school system to a poem he was assigned to write as a junior high school student.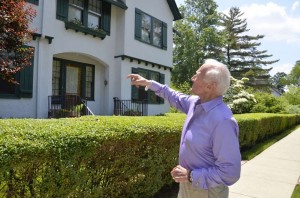 "I have not too good a memory of where I was yesterday, but I do have a little memory jogger that I recite from time to time," Aldrin joked before reciting the poem from memory.
Aldrin spoke fondly of what education has meant to him, candidly about his bouts with depression and alcoholism and reaffirmed his commitment to American-led exploration onto Mars. Likening the message of his new book, "Mission to Mars," to President John F. Kennedy's famed promise to land a man on the moon by the end of the 1960s, Aldrin said that his dream for Mars may take two decades.
"When are we going to make this commitment," Aldrin asked. "Not today, not probably in the next couple of years. But how about the 50th anniversary of this country's landing on the moon?
Montclair Superintendent of Schools Penny MacCormack spoke hopefully that some of Montclair's current students can follow Aldrin into space and live out his vision. While presenting Aldrin with the 1946 championship trophy, Montclair High School Principal James Earle announced that the school's Science, Technology, Engineering and Mathematics (STEM) learning community would be named his Aldrin's honor.
"It's simply inspiring, I think, for our students – and I see it in their faces right now – to just think you walked the same hallways as a man who landed on the moon," MacCormack said to Aldrin. "We're going to work hard to make sure that the science learning, the math learning, the engineering learning, the technology learning allows our students to dream of standing on Mars much like you stood on the moon."
Following the event, Aldrin visited his childhood home on Princeton Place and is scheduled to appear at the Montclair Public Library at 2 p.m. for a discussion and book signing.
Check back with The Times this week for our exclusive interview with Aldrin following Sunday's dedication, local reaction and photos from the day's events.