02 Oct

Buzz Lightyear Welcomed by "the Real Buzz" Aldrin

By Marcia Dunn, AP Aerospace Writer

October 2, 2009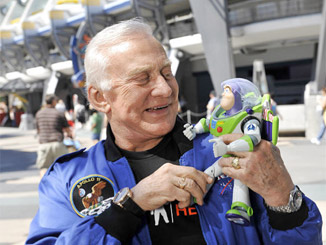 Lake Buena Vista, Fla. (AP) Fresh from "infinity and beyond," Buzz Lightyear received a rocket hero's welcome home Friday, sharing the spotlight with none other than the astronaut for whom the character is named.
The 12-inch action figure that returned last month from a real 15-month space station mission was showered with blue and gold confetti in a parade through Walt Disney World's Magic Kingdom on a warm fall afternoon. Cheeringschoolchildren and tourists lined the street, holding signs that read "Buzz is the Best" and "Buzz is Back."
Leading the parade was "the real Buzz" Apollo 11's Buzz Aldrin the second man to walk on the moon. Aldrin rode atop a 1969 Camaro convertible, followed by former space station commander Mike Fincke in another classic convertible. Then came Buzz Lightyear in a small, remote-controlled "Toy Story" movie-type car.
Aldrin said he briefed Buzz Lightyear before the doll was launched into space in May 2008 aboard space shuttle Discovery. "I said, now look, don't you forget, I'm the real Buzz," Aldrin said, looking serious.
That's even the name of his Twitter account: therealBuzz.
The Apollo astronaut wore a black T-shirt with the words "Rocket Hero" and the picture of a moonwalker with a flag. Little Buzz was its usual self, although the name tag was peeling a bit after so much time in space and each foot had small blue Velcro dots on the bottom for sticking to spacecraft walls.
The toy flew back to Earth on Discovery on Sept. 11.
Fincke shared the International Space Station for six months with Buzz Lightyear.
"He didn't talk very much," Fincke explained. That's because the toy's batteries were removed for safety reasons. "But more importantly, he didn't eat very much, either, so that left more food for the rest of us. But he kept us happy."
Seriously, though, Fincke said, Buzz Lightyear's flight represented an important education tool. On Friday, NASA launched a contest for children to design a mission patch for Buzz Lightyear; the winner will get a Kennedy Space Center tour and a trip to ?where else? ?Walt Disney World.
What's next for the longest serving space ranger? Disney is in discussions with the Smithsonian Institution, for a permanent exhibit at the National Air and Space Museum. Aldrin, though, believes Buzz Lightyear should aim for Mars or Phobos, one of the planet's moons. He's pushing that course for NASA's astronauts as well.