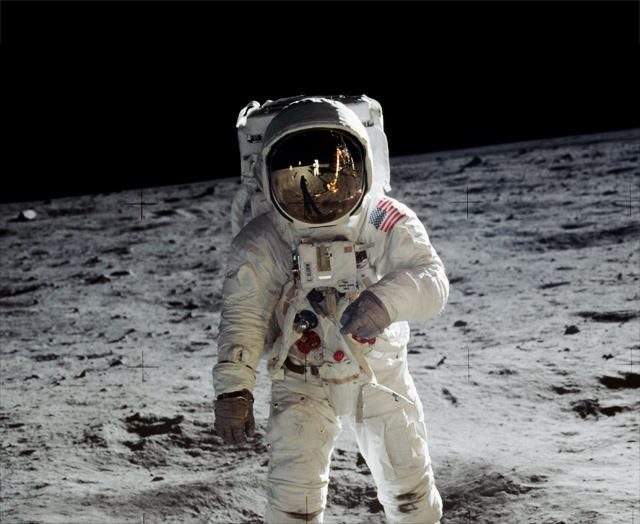 30 Jan

Montclair native Buzz Aldrin looks back at growing up in town
Editor's note: This article is part of a series on Buzz Aldrin, including ongoing efforts in Montclair to publicly honor him.
In a recent interview with The Montclair Times, Buzz Aldrin weighed in about being a struggling student when he entered Mount Hebron School in his preteens. He said it was there that he dedicated himself to education with the help of his teachers and his mother.
"That was the turning point, where I focused my dedication to education," Aldrin said. "That middle school would be most revered in my retrospect of my youth."
After graduating Mount Hebron, Aldrin would to continue to be a serious student at Montclair High School as well as a star athlete. Aldrin was a 165-pound center for MHS's 1946 undefeated state champion Mounties football team and a pole-vaulter.
Aldrin said that being educated in Montclair schools helped him to succeed in other academic settings.
"I finished first in mathematics, finished near the top of my class at West Point, and did well at MIT," Aldrin said. "I attribute that to the education system in Montclair."
Aldrin last visited Montclair in 2013, when the Montclair School District and Board of Education mounted a plaque in his honor inside the front entryway of Montclair High School. When he returned to his hometown a year-and-a-half ago, Aldrin told The Montclair Times that he hoped for one of the three public schools he had attended – Edgemont Elementary School, Mount Hebron Middle School, or Montclair High School – to someday bear his name.
Aldrin cited Mount Hebron as being the most appropriate and most likely to have its name changed. The Montclair Times published articles and editorials noting Aldrin's desire. In Montclair's magnet-school system, Mount Hebron's theme is science, technology, engineering, and mathematics – all areas of study in which Aldrin excelled, and which he relied on for his flights to space in NASA's Gemini and Apollo programs.
When asked whether anyone in the Montclair School District has reached out to him since his 2013 visit to discuss the possibility of naming a school after him, Aldrin said he hasn't heard from anyone. He then pointed out that there are other public schools in the United States named after him: Buzz Aldrin Elementary School in Schaumburg, Ill. and Aldrin Elementary School in Reston, Va.
Montclair Blue to Red, White and Blue
Edwin Eugene Aldrin Jr. was born in 1930 to Edwin Aldrin, a military man who, in civilian life, became a top executive at Newark Airport, and Marion Gaddys, the daughter of an Army chaplain who fittingly carried the maiden name of Moon.
He grew up in Montclair in the family home on Princeton Place, which is marked by a commemorative rock placed in front of the house by the Rotary Club of Montclair. His bedroom overlooked Anderson Park.
After graduating from Montclair High School at the age of 17, Aldrin attended the United States Military Academy in West Point, NY, where he would finish third in his class.
The future space traveler would continue his military career with service in the Air Force during the Korean War before earning a doctorate of science in astronautics from the Massachusetts Institute of Technology. That would be a precursor to what would mark him in the history books, as Aldrin followed his time in academia with being selected in 1963 for NASA's third group of astronauts.
Six years later, Aldrin would be one of the first two humans to walk on the moon, and among the 24 people who have visited the moon. Alongside Neil Armstrong and Michael Collins, Buzz Aldrin was a member of the Apollo 11 spacecraft and the pilot of its lunar module.
In 1995, his name would grace the character of Buzz Lightyear in the animated movie, "Toy Story."
Four years from now, July 20, 2019, will mark the 50th anniversary of Armstrong and Aldrin landing on the moon.
Aldrin, 84, who now resides in Satellite Beach, Fla., not far from the Kennedy Space Center, is moving at warp speed with a variety of projects, including a plan for a permanent American-led presence on Mars by 2035.
Read the Original Article at northjersey.com