16 Jan

Send Your 'Happy Birthday' Wishes to Buzz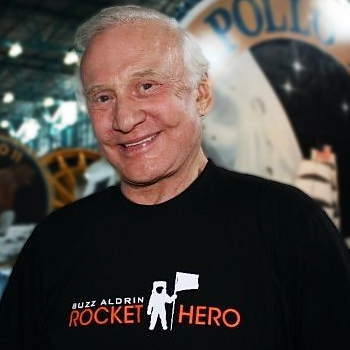 It's another historic event. On January 20th, 2010, astronaut Buzz Aldrin turns 80 years old.
We're inviting everyone to wish him a Happy Birthday. The birthday wishes gathered on the website will be put onto a commemorative disc and presented to Buzz on his birthday.
The disc is reminiscent of the original silicon disc that he left on the Moon in 1969—a disc that contained goodwill messages from leaders of over 70 countries.
Buzz has also asked that everyone get involved to commit whatever they can to help address the terrible suffering in Haiti. Buzz is turning 80 years old on Wednesday and would like to celebrate by having you donate to the Clinton-Bush Haiti Fund.
Whether it be .80 cents, $8 dollars, or $80 dollars—every bit helps.

Keep up with Buzz signing up for his newsletter, What's The Buzz?
Thank You From Buzz
(Updated: Jan. 21, 2010)
This 80th birthday on this wonderful planet put much greater meaning to the phrase "4 score years" of being very fortunate in the opportunities that have come my way. And because of those opportunities so many of you have sent me very best wishes and for that I heartily thank you.
I actually have had 3 days of celebrations starting on Tues, Jan 19th on board the National Geographic Explorer in Ushuaia, Argentina, our last night on the ship following a wonderful Lindblad excursion to a record distance south of the Antarctic Circle. I now have great memories of penguins, seals and icebergs.
My actual birthday was spent touring a dismal Argentine military prison. This was followed by flights to Santiago and finally a departure for home just before midnight.
However, so many of my best wishes came in on my 3rd day of my birthday when I returned to the US. The celebrations continue this week when on Friday my good friend John Travolta will present me with the "First Out of This World Landing and Take-Off Award" at the Living Legends of Aviation Awards.
On Saturday the Planetary Society is holding a private luncheon in honor of my birthday and on Saturday night I will be at a dinner gathering with my family members coming from all over the country. Now that I'm 80 I've decided I'm going to stretch my birthday out a few more days.
Buzz

| | |
| --- | --- |
| Message | Name |
| Happy Birthday Buzz. Thanks for all you do and many happy returns! | Tom Barnett |
| Happy Birthday to an American Hero and Icon! | Theresa Pierce |
| Happy Birthday Rocket Hero!! I hope they put you on the Mars crew! | Erik Jorgensen |
| My wish is for a very happy birthday to Buzz and a safe delivery of our 5th grandchild today! | Denise Talley |
| Happy Birthday to a man who does so much for what he believes in! May you have many more years to be an example to us all! You are 80 years of hero. | Shelley Hanes |
| You have always been a great inspiration to me Buzz! Happy Birthday | Michael Gregory Davidson |
| Thank you for your service and your writings about alcohol and depression. | Gary Milgrom |
| Happy birthday to a real American hero! | Dean Coupland |
| Happy Birthday !!! and Many More | Thomas Delaney |
| Gods speed, happy birthday. | Mike Waters |
| Happy Birthday; May there be many more memorable days waiting on the horizon. | Rolande Horne |
| Happy Birthday Capt. Rendezvous! | David Jackson, "The spacesuit Guy" |
| Happy Birthday Buzz !!! | Ralph Daniel |
| To the greatest moonwalker… Happy 80th Birthday Buzz!!! | Heidi Schaffer |
| Happy Birthday Buzz, you are an inspiration to generations and Space is a place we just have to be. | Graham Walburgh (UK) |
| happy birth day Buzz and thanks for all | moniez |
| Happy Birthday Buzz | Erin Kotlarczyk |
| Congratulations to the coolest space man ever! | Anna Hallin |
| Happy Birthday Buzz! | Buzz Noble |
| Happy 80th Birthday, Buzz! | Matt Collister |
| Happy Birthday Buzz. You're my hero! | Don Cleveland |
| All the best Buzz You are still shining like a beacon | Mike Campbell |
| Happy Birthday to our TRUE ROCKET HERO! 🙂 | Casarotto Luca |
| Have a wonderful 80th birthday, Buzz! We love you! | Nancy Pedersen |
| Happy 80th, Buzz!! | The family of the late Rev. Charles and Estred Schwantes (Jim Schwantes) |
| Happy Birthday Sir ! ORBIS NON SUFFICIT ! | Takis Stefanopoulos, DDS, LT COL |
| Happy Birthday!!!! | Leonard Ross |
| HAPPY BIRTHDAY BUZZ!!! I AM AMAZED AT YOUR TRIP TO THE MOON!!!! Erika. P.s. Can you do an interview for our project at school for History day because we are doing Apollo 11 | Erika Wang |
| Thanks for taking such cool pics! | Rachel |
| Hoofy Birthday Buzz! | R. Moose |
| Happy Birthday Buzz! Thanks for helping to inspire me to become involved in space | Patrick |
| Happy birthday Buzz! You socking that conspiracy theorist in the face is still one of my all-time favourite YouTube videos. Keep on keepin' on, moon man. | Lauren |
| You are an inspiration and a Rocket Hero! Happy Birthday Buzz! | David Peterson |
| Happy Birthday! You have done so much for this nation and we are very proud of what you do for the nation. | Erin and Madison Sherill |
| Happy Birthday sir ! | Sean Tracey |
| Hello Buzz! Thanks for being so amazing and I wish you the happiest of Birthdays! | Ashley Leckwold |
| Happy birthday! You are an inspiration to so many, still! | Heather Wheatley |
| Best Wishes Dr. Rendezvous! | John D. Lueckenotte |
| A very happy birthday wish for you, Buzz. | Fay |
| I was part of your Launch Team,Still have the Medallion, Happy Birthday | Don Bennington |
| Well Buzz…Happy 80th you are now at the HALF WAY point! Keep that same sense of adventure and add a good sense of humor and you will make MANY more discoveries over the NEXT 80 years to WOW all of us and maybe even YOU! xo (multiply that hug and kiss ti | Betty Ewing |
| Happy BIrthday Colonel Aldrin! Keep us aiming for the stars. | Tyson Koss |
| Happy 80th Sir, it's an honour! | Daniel McWaters |
| Happy Birthday Buzz!! | Michael |
| Happy 80th Birthday from a Canadian Space Fan | Charles S. Wright IV |
| Happy Birthday Buzz!! | Suzanne Cossaboon |
| Happy Birthday Buzz! I love you for all the wonder you and your Astronaut Brothers have provided me for my 45 years! Have a great DAY! | Michael Sullivan |
| Happy Birthday Buzz. Your our hero. | Dorothy Chaudhry |
| Happy Birthday, Buzz from The Hurricane Channel, CSwxCenter | James Feeney |
| Happy Birthday Mr Buzz | Bryan |
| Happy Birthday Buzz! Hope it is a great one! | Hillary Block |
| A very happy birthday to a real American hero! God Bless! | Linda McCleary |
| Happy Birthday! You're amazing! | Rachel Isaacs |
| qoSlIj DatIvjaj Buzz! (Happy Birthday in Klingon) | Kyle Daugherty |
| Happy Birthday!!!! | Marion |
| Happy Birthday Buzz! | Thomas Terashima |
| I have always looked up to you, Buzz since I was 6 yrs old. It's now almost 31 yrs and I still love you 😉 I hope someday I can have the honor of having coffee or lunch with you. Live well, long and peaceful. Much respect and love. | Michelle Jennifer Santos |
| Rock(et) On Buzz, Hope it's the best birthday yet! | Susan Adcock |
| Happy birthday Buzz! All the best. | Shane Kalicharan |
| When we shoot for the moon, thanks to you we know it can be done. Happy Birthday | The Messer Family |
| Happy Birthday Buzz, Keep on inspiring us. | Mark Griffin |
| One day, when humankind has colonies in the farthest distances of the galaxy, people will speak of Buzz Aldrin in the same way they speak about Christopher Columbus or Marco Polo. | Connor horn |
| No words can really describe what we owe you and your fellow astronauts. Thank you for everything you sacrificed to take mankind to the moon. Happy birthday good sir. | Chris Hanrahan |
| Happy birthday BUZZ!!!! | Alan Cedeno |
| Happy birthday y'old space hero you 😉 | Cliff Rowley |
| Buzz, You are a true inspiration. Thank you for everything you have done. | John Oliver |
| Happy Birthday Colonel Aldrin! I was also with my family in the living room crowed around the TV when you stepped foot upon the moon and talked about its "magnificent desolation!" | Mark Ollig |
| Happy 80th! i watched you walk on the moon as a kid and you have always been my favorite astronaut. Thanks for your work on space exploration. Enjoy your big day! | Patrice Nango |
| Happy Birthday Buzz Aldrin….youv'e come a long way with public relations since landing on the Moon…you are the ROCKET HERO!!!…salute! | Joe Tremblay |
| Happy Birthday Buzz! I'm so glad you walked on the moon just as my best friend was born. And I hope ypur dream of people walking on Mars comes true! | Amy Hager |
| Happy Birthday Buzz! | Carla Jenkins |
| Happy birthday Buzz, you are a great inspiration and you did not look a day over 60 when I met you at a book signing a few months back. | Patrick O'Neill |
| Happy Birthday Buzz! You have been and continue to be a positive light. Thank you for facing the challenges you have and for sharing your message so others can learn, grow, and continue in your footsteps. | Patrick Riley |
| Happy birthday! We loved seeing you speak on the Hornet in Alameda, and appreciated you speaking your mind on so many topics. Keep it up! | Clarissa & Clint Ryan |
| Have a great one Buzz! | Paul Hayes |
| Dr. Aldrin, You are a hero in anyone's book. Happy Birthday! | B. Travis Wright |
| Happy Birthday and fond thoughts for you, Colonel Aldrin, a real American hero | Gentry Lane |
| You have served as an exemplar of human tenacity and diligence since long before I was born and continue to inspire those traits even today. I thank you for your past and continuing fight against our perceived limits and, most importantly, wish you a very | Rob Womack |
| Happy BD, Buzz, best man on Earth and Moon! | Caetano J√∫lio |
| Happy Birthday Buzz! Your my hero! | Alex Bourquardez |
| You are an inspiration. Happy Birthday! | Kate Gage |
| Happy 80th Birthday, all the way from Australia! Another well deserved milestone. My father flew fighters alongside the USAF in Korea with the RAAF. Here's a photo of him with Col. Harrison Thyng.http://thereandback.com.au/?page_id=206 Many Happy Returns | Owen Zupp |
| I remember meeting you as a kid when you came to my school 20 some years ago. We had space ice cream. Happy Birthday, Buzz | Timothy Iwan |
| Happy birthday, Buzz! You've always been a hero! | James Womack |
| Happy Birthday! Here's to 80 more! | Jason |
| Best wishes to you sir! | Pat Poole |
| Happy birthday to a true American hero | A |
| Happy birthday to you, Buzz. A rue American hero! | Katherine Clouet |
| Happy Birthday Buzz! | Brandon Cholodenko |
| Happy bday Buzz, you've been an inspiration to many | Sergio Schvezov |
| Mr Aldrin! It is a priviledge and honour to be allowed to wish you Happy Birthday!! Thank you and Congratulations from the UK!! | Sharon Neysmith |
| Happy Birthday Buzz, you're a legend! I'm in awe of who you are, and so so grateful for what you provide for our world! May you continue your ride in good health and abundant joy. | Helene Goldberg from Melbourne, Australia |
| Happy Birthday! | Erin |
| Happy Birthday, Dr. Rendezvous! | Margaret, Tom, and Andrew Keane |
| Happy Birthday Buzz-80 Great years, for everybody that knows you. | Robert Abernethy |
| Happy 80th birthday Buzz!! God bless! | Amy |
| Happy Birthday! We wish you many more. Thank you for being one of the great pioneers! | The Gengl Family |
| Happy Birthday Buzz! I hope you keep going forever! | James Walker |
| Happy birthday! Thank you for all that you do to support sience education! | Julie |
| Congratulations Buzz, I met you in Australia when I was 14, you were an inspiration to me then and you still are now. All the best for your 80th and I wish you many more years. | Daniel Drysdale |
| May God bless you with health, wealth and prosperity in your life. | Alejandra Carvallo |
| Happy 80th Birthday Mr. Spaceman! | Jeff Marshall |
| Happy Birthday Buzz | Andres Ipinza C |
| Happy Birthday Buzz!!! I hope you have a glorious birthday, FILLED with fun, family, and friends! As a space enthusiast, I greatly appreciate ALL you have done in your career. Best wishes to you and yours, always. | Angela Jones |
| Greetings from Germany and best wishes fot your 80th birthday to one of the heroes of my youth. | Nikolaus Bernhardt |
| Happy birthday!! | Lara Eakins |
| Happy birthday, you'll always be our eternal rocket hero, wish to thank you for all you've brought for science and mankind. Kind regards from Brazil! | Rafael Boucault |
| Wishing you the happiest of birthdays! Ray Bradbury says "The best scientist is open to experience and begins with romance – the idea that anything is possible." I agree with him. | Kelly Johnson |
| Happy Birthday Buzz! | Emily Flanders |
| Happy 80th!! | Kristin Dormuth |
| Happy 80th Buzz. Keep up the good work promoting manned missions to space. Hopefully one day, we'll have the vision to go back to the Moon and beyond. | Tim Beckett |
| Happy birthday, Mr. Lightyear! | Christopher Casey |
| HAPPY BIRTHDAY ! | Kent Franklin |
| Happy 80th Buzz!! You r inspiring. Thanks 4 all u do. | Diane Urbanski |
| Happy Birthday, Buzz. Lets celebrate your 90th on Mars! | John Gale |
| Happy 80th Birthday, Buzz! Congratulations!! | Andrea Aikman |
| Happy Birthday sir. Thank you for all you have done for humankind. Live long and prosper. | Ruben M Trujillo |
| Congrats, Buzz!!! UBER accomplishment–making it to 80–in clear-thinking and active style. You're the best! Keep on cookin'! I figure you're good for another 20 years. Enjoy your day, Viver | Vivianne "Viver" Israel |
| happy 80th mr. aldrin | chuck |
| Hey best wishes from dominic A.K.A Thescarypi. Live long and proster dude. | dominic franklin |
| Happy Birthday! keep celebrating 'em. | Drew Alfgren |
| Happy 80th, Buzz! You still inspire! | Doug White |
| Happy Birthday Buzz, Live long and prosper!, I can actually do the vulcan salute with my left hand. | Bill McMahon |
| My very best wishes to Buzz on your birthday!! 🙂 | Chris Colomb |
| What can I tell a man who has all the best wishes of all mankind? Love ya Buzz! | Greg Pavlucik |
| Happy Birthday Buzz! | Randy Griffin |
| A very Happy 80th Birthday, Buzz! You're still an inspiration to all of us! | Sandy MacGowan |
| Happy 80th birthday! And thanks for all you've done. | Jennifer Tait |
| Happy 80th, Buzz!! You continue to be an inspiration! | Jerry Wood |
| Happy Birthday to one of the greatest explorers in mankind's history. Thank you Buzz Aldrin! | Nick LaBate |
| 80 Years Young! Happy B-Day Buzz! | Patricia Greenbaum |
| Happy 80th Birthday Buzz! You have a very sneaky and loving assistant! 🙂 | Anthony Graham |
| Happy Birthday buzz | R.Ravi Shankar |
| One of mankind's greatest heroes! | Bob Boehmer |
| Happy 80th Birthday Mr Aldrin! | Tristan Girouard-Turmel |
| HAPPY BIRTHDAY BUZZ! | Debora V. |
| Hi Buzz! I feel fascinated with the way things work in space, and what its required to get there. I hope you do too. I feel proud for the humam race to be able to develop itself to get to the moon, i thanl you for your infinetly important contribuition. I | Pedro Mendes |
| Bappy Hirthday! To see through your eyes would be amazing. | Athena |
| Happy Birthday, Buzz! My best!! | Bill Retherford |
| Happy Birthday Buzz! | Matthew |
| Thank you for all of your hard work in keeping interest in space exploration alive to the public. Truly a hero. | Billie Volkova |
| congrats and keep up the good work | C.J. Jurczak |
| Hope you have a wonderful bithday, and many more great years to come!! | Kerry Wright |
| 80 years old? WOW! Congratulations to a true American hero! | Richard Neimeyer |
| Happy Birthday, Buzz! You are an American Hero! | Nikki Mastro |
| Happy Birthday, Buzz! | Jim |
| hope your birthday's a knockout, rocket hero! | anessa mooyeens |
| Happy Birthday, Buzz! Wow, 80! You look fantastic! | Donna Brememan |
| Happy Birthday Buzz, you are a true hero! Ever since I was a little boy I have wanted to be an astronaut and explore space, just like you! | Charly Daniels |
| Happy birthday Rocketman!!! | Pierre Rochefort |
| Best wishes to a clear voice for space exploration, happy 80th! | Jorge Salazar |
| Happy Birthday! May you live long and prosper. | Wade McGillis |
| Happy 80th Birthday, Buzz. | Bob Studabaker |
| Buzz, God Bless and hope you have a wonderful birtrhday. Thanks for all you've done and continue to do!!! | Lonnie |
| Mr. Aldrin (Buzz) I wish you a joyous & blessed birthday celebration. | Wayne "Wayne Edwards" Nelms |
| Happy Birthday to one of my heros! | Steve Axthelm |
| Happy Birthday Buzz! Hope you have a great day!! | whitney |
| Happy Birthday Buzz!! I wish you all the best on your 80th. Thank you for all your hard work for the future of humans in space! | Dillon Fitton |
| Happy 80th Birthday Buzz!! I was on your Delta flight from the National Space Society conference last year from Orlando to LAX last May. Good luck with your new book! | Alvin Leung |
| Thank you so much for your continued outspoken support for the space program! | Dave D |
| I hope that you have a happy and blessed birthday, Mr. Aldrin! | Emily Hammersborg |
| Happy Birthday to a great man | Scott Mann |
| Happy birthday, Buzz! | Dana, Chris, and Alessandra |
| Happy Birthday Buzz! | Rick DeVors |
| Dr. Aldrin, you have been an inspiration for me, and thousands of other people who have pursued science and engineering careers because of America's achievements in space. God bless you and best wishes for your 80th birthday! | Dr. Dan Handley |
| Happy Birthday Buzz! You'll always be my hero. Best wishes from Sao Paulo – Brazil | Luiz Miranda |
| Best wishes, here's to the best years yet to come! | Sammy Manalo |
| Happy Birthday, Buzz!! Best wishes to a real honest-to-goodness Rocket Hero, and someone who's been both an inspiration and spokesperson for a dream shared by all humanity. | David Bryant |
| Happy Birthday Buzz! I'm too young to have seen you live, but one of my earliest memories, unfortunately, is my mother sitting me in front of the television to see the Challenger disaster. She said 'This is important.' I hope we can see more moments like | Nick Ellis |
| Happy birthday, Buzz! You're my hero. | Rachel Joy |
| Happy Birthday! You are a Rocket Hero! Great book. | Holly S |
| Happy 80 Buzz | Jim Moore |
| Happy Birthday to the best step dad a gal ever had. | Lisa Cannon |
| Happy birthday, Buzz! Hope to walk where you have one day! | Thomas Anderson |
| Happy Birthday, Buzz! | Tim from (mt) Media Temple! |
| Happy Birhday from Alabama! | Kelly Meacham |
| You've been a hero long before I was born, lived just about everyone's dream and even that failed to stop you. Happy Birthday. | Radu Dumitrescu |
| Happy birthday, Buzz, from Canada! | Moggy |
| Many, many more! | Shannon Kelly |
| Buzz am from India and I wish u all the best ..u rock man u teach kids like us to aspire for the great and settle for nothing else | Ibu Sanjeeb Garg |
| Happy Birthday Buzz! True American Hero! | Shawn Halstead |
| Happy birthday! Here's wishing you many more. | Don Bowers |
| Very Happy Birthday Buzz, you're a wonderful Ambassador | Ed Bennett |
| Happy Birthday Buzz! | Meg & Tim |
| Happy B'Day Buzz! | Scott Nagrod |
| All the best and have another wonderful 80 years in space!! Happy Birthday! | Bob Deschambault |
| To infinity, and beyond! | Craig Good |
| Happy 80th! | Perry Wolf |
| Happy Birthday to one of my heroes from a fan who has the same birthday. | Russ Cross |
| Happy Birthday, sir! | Cassie Allen |
| Wishing you a very happy 80th birthday. May you have many more. | Arend and Willadale Smid |
| Happy Birthday to a true American hero! Your work reaching for the stars and conquering the earthly hardships make me proud to be your feloow citizen on the Planet! | Michelle Dennedy |
| Fighting the good fight for sceince. You are my hero. | Julie Webster |
| Happy Birthday Buzz! | Kevin Conod |
| Happy 80th Solar Circuit, Colonel! | Frank Christiny |
| Happy Birthday Sir from USMMA Kings Point | Corbin Stephens |
| Buzz, you are the inspiration of so many people who support NASA and its many efforts. | Ken Morrison |
| Reading your book now and I love it!!! | Linda |
| Happy Bday Buzz! Heroes never die! | Harst Besan |
| Happy birthday Hero! | Amy |
| Happy Birthday from Chile РIn spanish FELIZ CUMPLEAÑOS | Hernan |
| Happy Birthday Buzz! Thank you so much for your inspiration to others. | Kevin Crumpler |
| Buzz, I consider you a true hero for all of humanity; your contributions to the exploration of space are beyond measure. Happy Birthday and best wishes for many more! | Dr. J. Anne Hamner |
| Happy Birthday to a true American Hero. | Joe Campolieta |
| Thank you for everything you've done for this world! | Bo Zhao |
| Dear Mr. Aldrin, A Very Happy Birthday to you. I remember the night you walked on the moon because although I was young, my dad got me up to watch on the TV. May God Bless you and keep you. | Barbara Gifford |
| With much love and great respect, happy birthday!! | The Phillips Family, Alabama |
| Happy Birthday Buzz! You are a real American Hero! | Judy and Joe Ascenzi |
| Happy 80th Birthday Buzz! Not just an all-American hero, but a hero to the rest of us around the world | Matt Greig (Sydney, Australia) |
| Happy birthday Buzz! Keep up the good work keeping the dream alive. | Bill Mooney |
| 80 more! Thanks for all your work on space exploration! | Ricky, Pat & Rich |
| Happy Birthday Buzz. You are a true American original and hero. God Bless you | Gary Vance Nichols |
| HAPPY BIRTHDAY BUZZ!!!! | Michael "Bo" James Cook |
| Happy Birthday Buzz!! You're awesome!! 🙂 | Liz Lockhart-Videtto |
| Have a great Birthday… | Chris Graham |
| Happy Rocket Hero Birthday Buzz! | Clay Humphries |
| You are indeed a hero and one of the few great role models in the world…. thanks and Happy Birthday Rocket Hero | Ted Laskowski |
| All the best on your 80th Buzz! Thanks for all your inspiration! I have your photo on the moon (autographed from the big Moonfire) on my office wall in my lab. Keep fighting the good fight for exploration! | David Nelson, PhD (MIT) |
| Happy Birthday and best wishes for many more! | Barbara Durau |
| Happy Birthday to a true American Hero, and wishes for many more!! You continue to provide inspiration with your books, speeches and enthusiasm. Have a wonderful birthday! | Judy Montgomery |
| Happy 80th, Buzz! You are a true American hero, a true World hero! Many happy returns! | Rob Addison |
| Buzz, I thank God for your eight decades of life on this planet. You have truly made our UNIVERSE a better place!! Thank you for being a hero in the big sense–and caring to be a hero to individuals like myself. Bless you and Happy Birthday!! | Laura A. Blaes |
| It's a joy to read your tweets. You are a living legend! Happy Birthday! | Audy |
| Happy Birthday Buzz! | Shawn Williams |
| we're not worthy!!! Happy Birthday Buzz!! | Rob Seaman |
| Happy birthday Buzz | Hanan Schwartzberg |
| HAPPY BIRTHDAY BUZZ !!! 80 is a milestone and you've passed it with flying colors! Keep on living strong and healthy and living your dream! | Randy Sellet |
| ¡Feliz cumpleaños! Happy birthday! Thank God there're people like you, 80 years are not enough, I hope you'll live forever!!! | Gonzalo Orellana |
| Happy 80th birthday and many more to come and of course in good health. | David Schilling |
| Wishing you a wonderful birthday and a year filled with joy, good health and great adventures. | Carolyn Kalmus |
| Happy Birthday! | Cody L |
| Happy Birthday Buzz…and remember you're not getting older you're getting longer… | Chuck G |
| Happy Birthday to a fine pilot and a great patriot. | Geoffrey Clark |
| HAPPY BIRTHDAY BUZZ from your pals down under | Greg & Brooke Lee |
| HBDTY, HBDTY, HBDD BUUUUUUUUUUUUZZZZZZZZ…. HBDTY!!! AMM!!!! | Mike |
| Happy Birthday to my hero | Paul Pellerito |
| Happy Birthday, Buzz! | Eileen Harrity |
| Happy Birthday Buzz! Youu are a very inspiring American hero! | Suzanne Aultman |
| Happy Birthday, Rocket Hero! | Suzy Smith |
| #2 for a day, #1 since. You're a true American hero. God Bless. | Martin Stack |
| Happy Birthday Buzz!!!!!! | Joel Burns |
| Keep on being you | Karen Cook |
| Yom Huledet Same'ach, that's Happy Birthday in Hebrew. I hope you're not disappointed the moon isn't a vacation destination, 40 years after you walked on it with Neil. May you see the landing on Mars! http://spacepirations.blogspot.com | Amnon I. Govrin |
| Thanks Buzz for being a great American, one that we are proud of! | John Gaetjen |
| Happy Birthday! | Marion Foster |
| Happy Birthday Buzz! I watched you walk on the moon which was very special because you were my fathers roommate at West Point ( Class of 1951) | Britt Guyer (Jim Guyer's son) |
| Have a blast (off) on your 80th Buzz! | Marcy |
| Happy Birthday to not just an American Hero, but a hero for the human race. Happy 80th, Buzz! | Maria Boone |
| Happy 80th to man the whole world literally looked up to in '69 and as a manner of speaking we still do today! | Brad Wager |
| Happy Birthday Buzz – You're a great, American hero! My family and I wish you many more! | Aaron Yeargan |
| 80 years and in Antartica! Gotta be a record! U R my hero Buzz!! Happy BD! | Tim Hutson |
| Happy 80th Birthday Buzz! | Patrick Franklin |
| Happy Birthday!!! | Francine |
| Happy B-Day "Buzz" your a true American Hero | Kevin Harris |
| Many Happy Returns! Keep pushing the envelope; you remain an international figure of inspiration. Slangevar. | Christopher Kerr |
| Happy Birthday to a real pioneer! | Joshua Turton |
| May the next 80 be twice as good! | J Snyder |
| Happy Birthday Buzz!! 80 years of inspiring the youth of America!! THANK YOU!! We love you and wish you many many more!! | Marleen Martinez |
| Dear Mr. Aldrin, you and your mission built a solid fundamental for space research of all generations to come. Thank you and happy birthday! 🙂 | Dennis Eichardt |
| Happy 80th Buzz! I'll never forget "watching" you on the moon through my backyard telescope when I was 6! Keep reaching for the stars! | Mark Demsky |
| Go forth and conquer! You're still young! | Jim Brinton |
| Happy 80th Birthday Buzz! I always look at the moon and think of you guys! | Melissa Morris |
| Happy B'day, mucho amore! | Charlotte Bennardo |
| Happy Birthday Buzz! Thanks for everything! | Rob Bills |
| Happy80th(No-really?)Birthday! | SheilaAli-Oston |
| Happy 80th! Thank you for being such a wonderful part of the fabric of America. | Anne-Marie Gilliland |
| Rock on rocket hero! Happy birthday Buzz! | Leif |
| You've inspired generations and will continue doing so. Have a great Birthday Mr. Aldrin! | Rob Eubank |
| Happy 80th Birthday, Buzz! Thank you for your bravery and courage and for continuing to be such a great role model for the U.S.A. | Terry Lynn Anderson |
| Thank you very much & A Big Mahalo. | Nick "Snikitiki" Blair |
| Happy Birthday! Thank you for all you have done, and what you are doing now. | Robert Marsh |
| Happy birthday, Colonel Aldrin. You're an inspiration to anyone who's ever looked up at the skies and wondered. | Patrick Hume |
| I know this is significantly nerdy of me, but happy birthday. I'm a PhD Student in AE at Georgia Tech. I just watched "From the Earth to the Moon" for the first time, since it came out (I was like 10 or so). It meant a whole lot more to me now. I just wan | Jason Sherwin |
| Congratulations to a true American Hero, from a space fan! | Bill Fickas |
| Happy birthday! | |
| Have a wonderful day!!! Be happy!!! Thanks for sharing your experiences!! | Silvia Vargas |
| thanks for being a real hero!!!! | jamey kish |
| Happy Birthday Mr. Aldrin you are and always will be ONE OF A KIIND. You make our world a happier place. Thank You The Harris Family Jim, Melissa and Reid | The Harris Family |
| Mr. Aldrin, The happiest of birthdays to you and thanks for all the dreams of adventure. | Russell Klak |
| Happy Birthday and God Bless! | Matthew Olson |
| Happy Birthday from a land down under Buzz! What a guy! Do you rmemeber me? I was the little kid waving up to you way back when!Well, we'll never forget you. Best Wishes brother, Brian and Shanae | Brian Cleary |
| Happy 29th Birthday Buzz! Here's to many more! | Heather Bair |
| Happy Birthday, Buzz! Your contributions to mankind and the exploration of space are greatly appreciated. You and your fellow astronauts are true heroes. | Vickie Brown |
| Happy Birthday, Buzz | Mark Mayhew |
| Happy 80th. Many, Many More | Ken Brown |
| Have an incredible birthday and another fabulous year! I think of you every time I look at the moon! | Kristine Sorensen |
| Happy Birthday to a real American hero. You are an inspiration, you are a beacon to our future. Thank you. | Melissa Bleier |
| Happy Birthday Buzz!!! Thanks for everything | Joe Lucero Pomona, CA |
| Happy 80th Birthday Buzz! You are an inspiration in many ways. Thank You! | Matt Wassmer |
| Hey, who's counting? | Paul Dizadji |
| Happy 80th Birthday Mr. Aldrin! Thank you for your past and ongoing inspiration. Hopefully we'll achieve another great feat by the time your 90! | Mike Metschan |
| Many happy returns– I was honored to have shared your presence at the Smithsonian this summer, and deeply appreciate your passion and endurance. | Mary Beth Hunter |
| Happy birthday | Mario |
| Auguri! Sei grande! | Edmondo Tedesco |
| Happy Birthday from the crew at NYC Resistor. May you enjoy many more moons. | Matt Joyce |
| Dear Buzz, On your birthday I wish you much pleasure and joy and hope all your dreams come true!! "Joyeux Anniversaire", from the bottom of my heart, your friend Thierry Chaunu | Thierry Chaunu |
| Happy B-Day, Buzz! 🙂 | Sam Jackson |
| Happy Birthday, Buzz! | Katie Berryhill |
| Happy Birthday Buzz! You're a living legend! | Matt Francis |
| Happy Birthday | Angel Picon |
| Buzz! Happy 80th; wish I could be there to celebrate! Thanks again for writing the intro to my book Space Places 20 years ago, and for the great leadership of space exploration, in so many ways. Miss you, take care! | Roger Ressmeyer |
| Happy Birthday, Buzz! | Laszlo Fenyo |
| Another orbit complete! Happy Birthday Buzz, thanks for inspiring so many. | Graham Lawton |
| You inspired me to love science! | Dr. Lucy Goddard Kalanithi |
| Happy Birthday! | Heather A. Adler |
| Happy birthday Buzz! You are truly a living legend! | Mandy Gardner |
| Happy Birthday, Buzz! FYI.. it's not difficult to get a penguin through customs if you put it in a 'cat carrier'. They *never* check! 😉 | Ron Siemer |
| Happy 80th Buzzday! | Cyn Unnasch |
| Happy Birthday BUzz, congratulations on being awesome 🙂 | Sam Peters |
| happy birthday! hope its a rocket experience! (wondering how many times you'll get that note) | Charlie Y |
| Your life and achievements are an inspiration, and so are your kindness and energy. Long live Buzz and happy 80th birthday – Joyeux anniversaire from someone born just when you set foot on the moon! | Emmanuelle NEMOZ |
| We'll never stop believing. Happy birthday | Mike Loughlin |
| Happy Birthday from √Örhus, Denmark | Torben Brandi Nielsen, former alderman, √Örhus |
| Happy Birthday, Buzz! | Andy Olson |
| Don't worry, its the new 70! | Tony Harmsworth |
| Happy Birthday to a real humble Rocket Hero! God bless you!!! | Mia Grace |
| Happy Birthday Buzz! Thank you for your continued service to the US and all mankind. Your tireless efforts are appreciated! | Ron Levine |
| Happy Birthday Rocket Hero! You're a real inspiration! God bless you! | Nicole R. |
| Tillykke med fødselsdagen månemand | kristian schneider |
| Happy Birthday Buzz, you didnt quite make it to "infinity and beyond" but have certainly played an enormous part in inspiring humanity towards it. I wish you many more | Giles Bennett |
| Dear Buzz, Wish you a good health,many smiles,and a lot of real achievements. | Galia |
| Beate wishes you all the best way over from Germany | Beate |
| My best wishes to a great person, always in my mind since I was a child! | Fabio Pani |
| Happy Birthday Buzz – it was an honour seeing you talk in London. I wish you many many more happy, healthy birthdays. | Fiona |
| Happy 80th Birthday and may you have plenty more! Regards from Perth Western Australia! | Evelyn Rompotis Botsis |
| Wow, happy birthday to my favorite moonman! Thank you for being so enthusiastic about space and exploration in general. It's because of you and others like you that I love to learn and go on random little adventures to see what I can find, in old and new | Laura Bridges |
| Happy Birthday Buzz! Here's to Many Many More! | Stuart Riding |
| Hey, the Universe is buzzing with it: it's your big day! So happy B-day, Buzz. You're forever our Man on the Moon… | CelticHair |
| Happy Buzzday! | Richard Taylor |
| Happy Birthday! May your birthday be out of this world! | Devon T. Marcus |
| Happy Birthday! I'm sure the man in the moon sends his congrats too. | Alex Karlsson |
| Happy 80th | Dave Weeden |
| Wishing you the happiest of birthdays! | Matilde |
| Happy Birthday Buzz, "To 80 and beyond" | Steve Butcher |
| Thank you for giving so much to so many. Happy birthday! | Vinay Khosla |
| Thank you for sharing all your visions and inspiring us to learn about space. All of us at Greenscene/Rock & Roar wish you a magnificent 80th birthday Buzz. | Anne Devine |
| Happy birthday Buzz! | Mathias Anderssén |
| Happy Birthday sir! May you have many more adventures in the coming years. | Amber D'Angeles (twittering as Jingerbreadgirl) |
| birthday greetings from Dublin! | neil |
| Happy Birthday Buzz, your an absolute legend, have a brilliant day, jane | jane clark |
| Happy birthday Buzz,your life has been truly inspirational. | IKLAGA GABRIEL |
| From Austria-Italy, Happy Birthday Rocket Hero!! | Marco Zani |
| Happy Birthday! | Tomas Kerslow |
| Shine on you crazy diamond! Happy birthday, hero. | Daniel Price |
| Happy 80th Birthday Buzz! Thank you for touching my life in such a remarkable way | Robert Benn |
| Happy Birthday Buzz. The exploits of you and the rest of NASA sent me into science when I was young. | Chris Sidwell-Smith (from the UK) |
| Happy Birthday Buzz you're a hero xx | Shelley |
| Godspeed Buzz! | Marcus Rowell |
| Hey Buzz birthday greetings from Ireland hope you keep it up for another 80! | Liam Mac Namee |
| Happy birthday Buzz!We love you!bisous de France!!!! | Natacha |
| Happy Birthday, you are a hero and an inspiration to us all. | Kimberley Clarke |
| you walked on the moon, you danced around the room, you lived to rap it all and still stand tall | linda arroz |
| Happy Birthday and a wish for you to have very many more. | Harry Hallett |
| Happy Birthday,best wishes,keep on rockin' in the free world!Love ya,Steph | Stephanie |
| Happy Birthday, hope it's a good one. | Carole Ann Smith |
| Wishing you all the best on your 80th Birthday Buzz! | Katie Harding |
| Many Happy Returns, and long yet may you run. | Glenn Rice |
| I am happy that you exist. Thanks for all the work you do and have done. HB! | The Short Family |
| Best wishes on your birthday! | Adrian Brown |
| Buzz congratulations, y're my Hero !! | Ron van Dorrestein |
| Happy Birthday Buzz – Thanks for showing the world that we can reach the unreachable. You'll always be a hero… and you're still awesome! | Joanne Hodges |
| Have a super day hero! Kisses from the UK | Linda |
| Happy Birthday and all my best from Hamburg Germany! | Matthias C. Lischke |
| Happy Birthday Buzz! May the day be filled with family, friends, the memories you have shared as well as the adventures yet to come. | David M. Brown |
| Bon anniversaire | Christian Dutrey |
| Happy birthday Buzz. You are an inspiration to us all. | Alexander Lee |
| Happy 80th Birthday Buzz! | Kristen Grenda |
| Happy Birthday Mr. Aldrin! | Gene Fallaize |
| Happy birthday, Buzzzzzz 🙂 | johan pretorius |
| Happy birthday, thank you for keeping up the Space Buzz! | Andreas |
| Happy Birthday Buzz. Looking good for a few more years yet. | Andy Myers |
| Happy birthday spaceman, You are an inspiration to everyone to reach for the stars, whether it is space or the ones of our dreams | fiona reay |
| A Very Happy Birthday Buzz – It's great to know that space exploration remains firmly in your life and dreams. | Ian Butter |
| Tempted to put some thing witty about your long journey but will resist this time. Happy Birthday Buzz, wishing you many more. | Diane Bayles |
| You don't look a day over 50…Have a Happy Birthday! | Thomas J Chandler |
| Happy Birthday Buzz – What a legend | Mark Norman |
| happy birthday | Torben Jensen |
| Happy Birthday Mr Aldrin! | Germaine de Haan |
| Happy 80th birthday Buzz! You have always been an inspiration. | Nick Holland |
| As we say in Irish: L√° Breithe shona duit, Buzz! | Niall |
| Happy eighth decade, Buzz! May you continue to inspire the world! | Dr Sharon Zink |
| Thank you for carrying the weight of representing mankind's greatest achievement for over 40 years! | André Brito |
| If only I could shake your hand and say thank you,rocket here. | Antonio |
| joyeux anniversaire buzz! happy birthday | romuald |
| Happy Buzzday!! | Herman Paassen |
| Hi Buzz! Happy birthday from Brasil! My father turned 80 last year too. He is pilot until today. | Adil Calomeno Junior |
| Happy Birthday Buzz!!! You my friend, are awesome. | Tom from the UK |
| Happy Birthday Buzz! | Brant DeLoatche |
| Happy birthday! Anything else I could say would be cheesy, so I won't say it! | Laurel Whitlock |
| Happy Birthday Mr. Aldrin. Greetings from The Netherlands | Henk Boshuijer |
| You have to return man! CONGRATULATIONS!!! | Abraham Ocon |
| Happy 80th!!!!! | Gary Dunlap |
| a very happy birthday America's original Super Hero! | Diana Fraser |
| Happy Birthday! | Jeff Foust |
| Happy birthday to a REAL AMERICAN HERO! | Anne Miranda |
| Happy Birthday!!!!!!! | |
| Thinking that man has been on the moon still gives me goosebumps. You, sir, are a true hero! Happy birthday, Buzz! | Alan Garrick Bercero |
| Happy Birthday to a guy who is in the midst of an amazing life! | Karen O'Keefe |
| Happy birthday buzz!!! Your my childhood hero and always will be!! | Masum ali |
| Hi Buzz! | Lou Baldin |
| You're a Great American! Thank you for all your contributions to mankind. God bless you! | Jeff Budd |
| Happy Birthday Buzz! You're my hero! Hope to see you in Chicago soon. | Mark Baich |
| Have a good one brother! | Eliot kennedy |
| Happy Birthday Buzz. It was our 6 year old daughter learning about you in a British school that first started us following you on Twitter! Have a great day! | Gareth Edwards |
| happy birthday, buon compleanno col. Aldrin. | andrea campus |
| Happy Birthday !!!! | Cathe and Brad Hruboska |
| Dear Buzz: I wish you an even longer, happier and healthier life. I'm just one of the millions persons who would give everything just to shake your hand. | Jose de Anchieta |
| Happy Birthday from Australia to a real hero! | Doug Wilson |
| You've inspired me my whole life-including my decision to attend MIT in the '70s. Happy Birthday to the original Rocket Man. | Barbara Thornton |
| Hi Buzz, just want you to know that when I was seven years old you were a marvellous inspiration for me and your continued appetite for life is a fantastic inspiration for us all, i am so glad that you do not shun publicity and extend such a warm characte | David Lear |
| Congratulasions Buzz, you're an inspiration. | Steve Archbold |
| Happy Birthday. You will live forever in our memories. Long Live Buzz. | Paulo Dias |
| Happy #80! Thanks for your great service and keep up the good work | Tom Parette |
| Happy Birthday from Argentina, I'm yours video interview in 1972, here in BS AS, just yesterday I was seeing. | claudio mariani |
| Happy Birthday, Buzz. May you always fly high! | John Murawski |
| Hello Buzz, have a nice 80th birthday. Thank you. When all people work together everything is possible. | Kai Lamer |
| Happy birthday Buzz, thanks for inspiring us all. | Roger Smith |
| Happy Birthday, Buzz! So glad to have been alive at the time of your incredible missions. | Mike Knox |
| Happy 80th Birthday to You, Buzz Aldrin, a man who was involved with one of the greatest achievements in the history of mankind! Your contributions to the defining moment of the space program, being one of the two first human on the moon, is unforgettabl | Mae Mangieri |
| Hi Buzz, you are an inspiration to me and your work and life achievements have inspired me to pursue a MSc in Astrophysics. Happy Birthday | Gavin |
| We share the same birthday! Have a great one! | Colin Povey |
| Happy Brithday to a truly inspirational man! | Pete Hardie |
| Many happy returns to you Buzz, you are a real hero and inspiration to the world.Thank you. | John Cave |
| Only 80? Put your name down fo Mars! | Tony Keats |
| You are an inspiration to millions of people in the world, and I am one of them. You will always be The Rocket Hero. Our hero. My hero…Have a wonderful birthday. | Monica Latkowski |
| Happy Birthday Buzz! You are a true American Hero! | Keith Collinsworth |
| Hey, Buzz! Hope you have an amazing birthday. Get to DC sometime soon and meet the new AA for PAO. | Bob Jacobs |
| A very happy birthday to you, sir, and thanks for decades of inspiration! | Grieg Pedersen |
| HAPPY BIRTHDAY TO MY HERO FROM LITTLE TINY GIRL – LOVEPREET . I WANT YOU TO BE ALWAYS SHINE ON THIS EARTH. LOTS OF WISHES FROM MY HEART | LOVEPREET SIDHU GRADE 6 |
| B wshes fr Ch, Zim May 2002 | Charles Gardiner |
| Happy Birthday | daniel |
| Happy Birthday Buzz! You're an inspiration to us all! | JoAnn |
| Happy Birthday, Buzz! | Roy Harris |
| Happy Birthday Buzz. | Peter Barna |
| Happy Birthday to the original Rocket Man! Hava an amazing day & enjoy your time as an octogenarian! | Andrea Mercer, England |
| Happy 80th!!! | Sharon |
| Happy 80th Birthday, Buzz! You're an American icon and a true hero! | Mary Radus |
| Happy birthday to everyone's hero!! <3 | Ruth McIntosh |
| Happy Birthday Buzz! | Rushy |
| Happy Birthday Spaceman!! You are always an inspiration to me! | Meridel Ellis |
| Hope you have a GREAT one!! | Randy |
| Happy birthday, Dr. Aldrin! Thank you for all your efforts in promoting space exploration. | Patrick M. Berry |
| Happy Buzzday! | Emanuele Barbera |
| Buzz – HAPPY BITHDAY. We met you once at your book signing in Downtown Disney, Orlando a few years back. A lovely man. Have fun! | Paul Brown |
| All you need is the Birthday Experience 🙂 Hope it's a good one! | Mana Vautier (@spacekiwi) |
| Looking good, happy birthday! | Larry Fleming |
| Happy Birthday!! | Pattij |
| Happy Birthday to the man who made want to shoot for the stars!! | Brooke |
| Hi, Buzz! Bean from KROQ radio here. Happy 80th and thank you for your service and continued support for the space program! | gene baxter |
| HAPPY BIRTHDAY BUZZ AND MANY MANY MORE | MICHELE CONARD |
| Have a fantastic day Rocket Hero! | Jim Smith |
| Happy Birthday, Buzz. I hope you have a wonderful day! | Shirley Kendrick |
| Happy Birthday Buzz…you are a true American treasure!! | Dede |
| Happy Birthday Buzz! Hope you celebrate big! | Farris Rookstool, III |
| HB to a real American Hero. Because of men like you, I was able to live my dream and became a fighter pilot. | Larry Troyer |
| Happy Birthday, Buzz, and many more! | Brian J. Geiger |
| HAPPY BUZZDAY!! | Nicola Easton |
| Happy Birthday to you!!! I wish you will keep good condition till 100 years old. With love from Japan. | Sanae |
| Very many happy returns on this special birthday | Colin MacKenzIe |
| Happy Birthday! Celebrate you! | Becki Tooley |
| Happy Birthday Buzz! Thank you for your service to everyone. | Nick Fry |
| Happy Birthday rocketman, I was a young man when you worked your magick. I salute you. | Ernie F Foss jr. |
| Happy birthday from a big fan. | Patti |
| A Sincere Happy Birthday to you Mr. Aldrin | Greg Myers |
| Happy Birthday, Buzz! | Jon Anhold |
| Happy Birthday Buzz! Have a fantastic day buddy. | Mark "Buzz (yep, since 12yo)" Pereira |
| Best wishes! | Gerrit Scholten |
| You *really* do not look 80! Happy B-Day Mr. Aldrin! | J A Carter |
| Dear Buzz, we came to see you at the South Bank last year and you great have good birthday | Chris G |
| Happy B-Day Buzz! | Dave Richard |
| Thank you. For everything. But mostly for instilling a love of space/NASA into my father, who in turn, instilled it in me. Happy happy birthday, and I hope you consider to inspire this next year! | Atticus Hannah |
| Happy Birthday, Buzz! May you continue to explore and enjoy the Cosmos! | Chris Paluszek |
| Happy Birthday Mr. Aldrin. Thank you for your service and achievements for this country. | Larry Brake Jr. |
| a very happy year!!! <3<3<3 | Maria Silva |
| Thanks for keeping the flame burning | richard |
| Happy B-Day Buzz!!! Keep up the good work!! | Santiago Morales |
| you rock!! | Antonia Soares |
| Happy Birthday! To another 80 more? You are part of a the smallest handfull of people with whom I felt not onlya connection with, but an aching inspiration from as a lonely kid without many friends. You made me believe I would one day leave the confines | Erin Galbraith |
| Salutations and birthday wishes to one of America's heroes! | Mike L |
| Happy Birthday Buzz, and a rousing rendition of "Fly Me To The Moon" | Martyn Deedes |
| You'll never moonwalk alone | Richard Sveen |
| Celebrating a wonderful and full life. Worls traveler and worlds traveler! God bless you in the future and long life! | Glenda Sanders |
| Thank you for sharing a tip of the universe with us. Have a wonderful birthday, and many more! | Sheryl Taucer |
| Many Happy Returns of the Day! | James Sparks |
| Happy birthday! Many more! | Janice Jacobson |
| Happy birthday! You're still one of our greatest heroes! | Cherish Bauer-Reich |
| Happy Birthday Buzz | Taco |
| Dear Mr. Aldrin, Wishing you a very, very Happy 80th Birthday! Thank you for your life-long work. We have learned so much from you x You are indeed my hero! Kindest Regards, The Gair Family, UK xxxxxx | K. Gair & Family |
| Happy Birthday, Mr. Aldrin! You made me want to become an astronaut, and although I ended up being a scientist instead, I've always loved space. Thank you for everything. | Elizabeth Gordon |
| Happy Most Wonderful Birthday. Let it be a most "Stellar" One!!! | Patty |
| hello, happy b'day! | Harshit Agarwal |
| happy birthday from Napoli (Italy) | Angelo Varriale |
| Happy Birthday "Buzz" | Jeff N |
| Happy Birthday Buzz! You're my hero. | Inger Angelika |
| Happy Birthday Moon you walking Octogenarian you! | Harbles |
| Happy Birthday!! To a true American Hero! | Sabrina Lochner |
| Thank you for being an inspiration! | Tricia |
| Happy birthday to the consummate explored! You are an inspiration to us all! | Susan Davis |
| Happy 80th to a hero and an icon who continues to champion our growth beyond this world. It was an honor to have met you. Thank you for helping make our world grow. | Buckley Collum |
| Happy Birthday Mr. Aldrin, your exploits are why to this day, i still look up at the stars with wonder. | mike sanderson |
| Best wishes for a very Happy Birthday, Mr. Aldrin. | Dave Wilson |
| Happy birthday, Buzz! The world is a better place with you in it. | Ruth Hiner |
| I wish you a spectacular birthday! Thank you for all that you have done for us 🙂 | Megan |
| Happy Big O, dear Cuz | Gretel Coursol |
| Best wishes Buzz! 80 years young, eh? | Gary James Galley |
| A very happy birthday, Rocket Hero, and here's to many more! | Lise Donnelly |
| Happy Birthday! You are such an insperation! | Joe Haggard |
| Many Happy Returns! | Erin Kelly |
| happy birthday, Buzz!! | steve murphy |
| Happy birthday, you American hero! Thank you for your books, too. All best, Pam | PamN |
| Wow, 80 eh? you look great for your years. happy birthday to on of the greatest heroes of the world….. and universe. Have the best day EVER, God Bless you xxxxx | Kathryn Higham |
| Happy Birthday Buzz! | Benjamin Cohen |
| … and many more! Sincerely from Mexico. | Angel R. Monjaras |
| Happy 80th Birthday to one of my hero's…Donna in San Francisco | Donna L. Dodd |
| Hope your birthday is out of this world! | Ange Taormina |
| Happy Birthday, Dr. Aldrin! I'm currently reading Magnificent Desolation and loving it! Thank you for what you and all your fellow astronauts have done to further space exploration! | Rachel Robison |
| Happy Birthday Buzz! You are a hero! | Chris Carnall |
| Thank you for your dedication and bravery. I am in awe of what you helped to accomplish- the greatest human endevour of all time. God bless you, Buzz, and happy birthday! | Robert Peyton Porterfield |
| Have a great day, Mr. Aldrin! | Tara Charnow |
| Congratulations Mr Aldrin – thanks for your awesome contribution | Clive |
| Happy Birthday Buzz!!! | TJ Mullen |
| Happy birthday to a true American hero! | Yvan Kelly |
| Happy Birthday to an American Treasure! | James Griffiths |
| All the best sir! | |
| Happy birthday from Spain Mr. Aldrin!its from a teenager who admires you! you are one of the most imporant people who live nowadays | Enrique |
| Many thanks & wishes for love, joy, peace & happiness always! | Silvie Zamora |
| Happy birthday, Mr. Aldrin! | Tamara Broitman |
| You are an inspiration sir! Happy Birthday! | Gregory Peters |
| Wish you a very happy birthday !! | Aldrin |
| Happy Birthday to a Great American Hero! | Mark Silva |
| Happy Birthday Buzz! | Matt Cannella |
| Happy Birthday Mr A.! Keep on rocking 🙂 | Rob Moore |
| Happy Birthday!!! from an Apollo and Space Explorer Fan | Aaron |
| Happy Birthday!!! | Scitt Rames |
| You're a hero to many. HAPPY BIRTHDAY Mr. Aldrin! | Hailie Walsh |
| You are not really 80 your only 21 with 59 years experience !! | Frances Wilson |
| Happy Birthday Buzz! Here is to many more! | Steven Foundakos |
| Happy Birthday Mr Aldrin! Wishing you a wonderful birthday and many more! | Roxie Richards |
| Happy Birthday Buzz! You are my hero! | Uncle Philly |
| Dear Buzz, I watched you walk on the moon when I was 9-Happy 80th Birthday, may all your SpaceDreams come true! | Glenna Foreman |
| Happy birthday Buzz! You're 80 years young 😀 Excited for the future of space travel! | Jessica Entis |
| Happy Happy Birthday!! Check out my Blog, I congrulate you ther!! | Anneke S |
| Happy 80th Birthday Buzz! We appreciate all that you have done for our country & all that you continue to do! Have a wonderful birthday! | Wade, Lisa, Cole & Hope Ramsey |
| Dear Buzz. Happy birthday. You truely are a hero, going to the moon with technoligy of that time – whau. You have guts 🙂 Best wishes, may you live to be a hundred | Dave |
| Happy Birthday! | Lori |
| What a wonderful smile and a beautiful person. Have a very Happy Birthday with all the happiness you deserve. | Laura |
| Happy Birthday Buzz, A real hero.. | Nik Read |
| Dr. Aldrin: Happy Birthday to a great American Hero! Best wishes for a great day!!!! | Jack Hamilton |
| Happy birthday & thanks for enthralling my 10 year old self, 40 years ago!! | Mike Tawil |
| Happy Birthday Buzz.Thanks for continuing to be an inspiration! | Mark Weaver |
| I carried a homemade sign at your parade in Chicago in 1969. As a 7 year-old at the time, I was sure that you waved directly at me. Now, I'm so happy to wish you a Happy Birthday 🙂 | Jay Stein |
| happy birthday buzz keep strong we need you in order to get to mars your intellect is appreciated. | Joseph Joyce |
| Y que cumplas muchos m√°s :)) | Isabel |
| Happy birthday! | Stephen May |
| Happy Birthday, Buzz. Congratulations to you and all of your amazing accomplishments. Lois also looks like a real jewel. I liked when she said "He can go to the moon, but he can't make a cup of coffee." All the best to you. Sincerely, Nancy Lindbergh | Nancy Lindbergh |
| Happy birthday spaceman from a friend who was seven when…! | Richard M |
| Happy Birthday Dr. Aldrin! Keep inspiring us all!! | Stan Clardy |
| Happy Birthday, heres to many more! | Shaughnessy McCaleb |
| Happy birthday Buzz!!! | Emily |
| Happy Birthday Buzz!! | Shaun |
| Happy Birthday to one of the men I admire the most on this Earth. | Carolyn H. |
| Happy Bday Buzz! | Leonard Akers |
| Happy Birthday!, have a moon-cake walk | Jon Albertson |
| Happy Birthday! | Louisa Gummer |
| Happy Birthday Buzz! | Eya |
| I Wish You all the best, and want You to know that I really look up to you. I have my own battle with depression, but reading about your life has shown me that even You are only human 🙂 Once again; best wishes to you from an "apolloholic" in Norway | Even-A. S. Andersen |
| We honor you on your 80th birthday as you have honored us by being our representative in space | Dr. & Mrs. Salomon Stein |
| Many happy returns Buzz.Have a great day | Peter Williams |
| Dear Mr Aldrin…. Hello from France… I wish you a Happy Birthday and thank you for your kindness each time I met you (2 times in Paris this Year). Happy Birthday | Stephane SEBILE |
| Dear Buzz, my name is Nane. I am from Germany and 4 years old. I am huge fan of yours. And wish you all the best for your birthday. When i grove I also want to be an astronaut and therefore my parents allready bought me the moonbuzz. I enjoy looking at it | Nane |
| Happy Birthday Buzz from an Astronomer who observes the Moon and knows it better thanks to you talking to us over many years. We needed YOU on that incredible mission. Forever, thankful. | Ken Kingdon |
| Constantly inspired by your achievements. Thank you for everything. | Brian Pugh |
| Happy birthday, Buzz! Keep soaring! | Robert Rose |
| Bon Anniversaire Cher Buzz ! | Aldebarande |
| all the best, health, happiness and love for your 80th birthday! sending you lots of love from vienna, austria! | lisa-maria jank |
| Have a wonderful birthday! | Christine Vasko |
| A very happy birthday to you and my hopes for many more good years to come for you. If there was ever a man to a buzz into the space program, it would surely be you 🙂 | Christian Lynbechr |
| happy b-day Buzz! it is my 14yo sons birthday today too | |
| Many happy returns on this momentous day. I will always remember seeing you on the moon, in my youth. | A. Marina Fournier, Campbell CA |
| You are indeed the rocket hero Buzz – Have a fantastic day 🙂 | Myles Lee Crampton |
| Happy Birthday! Thanks for everything you've done for space exploration! | Rebecca Ahern |
| Happy Birthday to our Rocket Hero!!! | Dawn |
| Happy Birthday! Hope you have many more. Evan from South Africa | Evan Dembskey |
| Happy Birthday and Thanks For All You Do! | Ray Botelho |
| Happy birthday to a true American hero! Thank you for everything you do. I hope you have an amazing birthday! Much love! | Marissa |
| Happy Birthday and good wishes to a hero of our time. | Jeannie Jewkes |
| Happy 80th birthday! | Chris |
| Whatever your doing, keep doing it ! All best wishes, Ian | Ian Paterson |
| Happy #80 Birthday to our favorite Rocket Hero. You are a true inspiration, in every sense of the word. We send our love. | Florence & Wendell |
| I now cover your doctoral dissertation in my intro astronomy and physics classes! Happy B-day! | Rolando M. Branly |
| dear buzz. very best wishes to your birthday from the reichert family in kent/england. you have sent my daughter isobel (space tiger) and my husband autographs. NASA anniversay book by Merrell/London. may i thank you so much for agreeing to do this. we as | Veronika Reichert / England |
| Dear Buzz, Have an absolutely wonderful, memorable 80th birthday surrounded by your friends and loved ones! All the best and health, wealth and happiness for the coming year. . . | The Plasa Family |
| Happy B-day Rocket man! | Pam siegel zarte |
| Happy Birthday Hero!! | Sally French |
| Happy Birthday, Mr. Aldrin!!! Thank you for never stopping your mission! | |
| Hi Buzz! Congratulations! You have a major role in mankinds history! Thank you! | Kristian Kjelstad |
| Happy Birthday Colonel! You're one hell of an American. Thank you, sir. | Caude Shifflett |
| Happy Birthday | Teena Elkins |
| Happy BDAY BUZZ | Michael Clive |
| Happy Birthday Buzz! You're a great American hero! An inspiration to us all! | Jon Geier |
| 'Happy Birthday Buzz',  I was privIleged enough to share my 6th birthday with you and Neil's small steps on our Moon, one giant memory for a small boy. | Malcolm Lambert |
| What a Beautiful life you lead! Here's to many more Happy, Awesome and Adventurous Birthdays! Love You Buzz! :~D | Sheryl L Rodriguez |
| Hope you have a wonderful birthday | Steve Miller |
| Enjoy your day! You deserve it! | Kyle |
| Have a very happy birthday! You are a true hero. | Melissa J. Gilpin |
| Many Happy Returns of the Day, BUZZ ! If we measure in light-years, you are a new born!! | Harish Pathria |
| Happy Birthday Buzz!!! | Greg |
| Happy Birthday Buzz, Best Wishes! | Tim Court |
| Happy birthday Buzz! Keep being awesome! | Tim Kennedy |
| You're the man. Happy Birthday! | Your favorite lawyer, Robert O'Brien |
| Happy 80th Buzz! May you have many more. | Bruce Townley |
| Happy 80th Birthday ..You are a hero and inspiration to us all …It was a pleasure to meet you in Dublin,Ireland a few years ago, Thanks for the lecture, and autographs and photograph ! All the best to you | Andrew Carson |
| America's last great badass is still kicking. Stay classy. | Casey Doran |
| My friend and idol Buzz! Happy birthday… I truly hope that you live another fantastic 80 years, full of achievements that no other human being can replicate . If you come again to Portugal to visit Vasco da Gama in your rocket powered car, please tell m | Tiago Moura |
| Happy Birthday Buzz. Give 'em hell. | Rick Mulheirn |
| Happy Birthday, Buzz! Thank you for all that you do in promoting space. Have a great day! | Kelley Miller |
| Happy Birthday Buzz! it's really cool to know that you will be visiting down here in NZ soon. | Eric Rodgers |
| All the Best on Your Great Day. | Adrian Broughton |
| Dear Buzz.. happy birtthday to you!! my birthday is on 16 January… January is a wonderful Month 🙂 Happy birthday, Sir 😀 | Michele Gelmini |
| Happy Birthday Buzz! Thank you for all of your inspiration! | Jason Elam |
| Happy birthday, Buzz!! Thank you for all you do and have done. | Anthony Adkins |
| Happy Birthday Buzz You are a national treasure. Here's wishing you many, many more. | Ciaran O'Donnell |
| Have a wonderful birthday!!! You don't look a day over 30! 😉 | karen sue brown |
| Happy Birthday Buzz! Come up to Devon Island soon! | Stephen Braham |
| Happy birthday Buzz you are a hero! | Andy Thomson |
| Hope you have a great Birthday! | Darren Armstrong |
| Happy Birthday, Buzz! | Julie DiCaro |
| Happy Birthday Buzz! | National Wildlife Humane Society |
| Thanks for all your work in spreading science! | Mike Murray |
| Dear Mr.Aldrin, Happy Birthday! I feel like it was only yesterday that you came to Buzz Aldrin ES and talked to us about your many adventures and your new book. Thank you for giving u that wonderful oppurtunity. Hope you have/had a good one! | Mounika Kari |
| Happy Birthday Rocket Hero!!! You have been my hero for 40 years. | Jayne Jones |
| Dear Buzz, Happy Birthday | David J Cook |
| To a positive inspiration, a hero, a modest and eloquent gentleman, and a great spokesperson for science and education: Many Happy Returns! | Adam Fox |
| Your friends at Arent Fox LLP hope you have a great birthday! And many more! You are a true American hero. Thank you for your great service to our country. | Steven Bledsoe |
| Happy Birthday Buzz, many more Wild Blue yonders | Kelley Butler |
| Thank you for the inspirations | Duane Stevens |
| Wishin' you nothin' but the best, today and always! | Linda & Kirk Petty |
| Happy 80th Buzz! O hero of mine ([*_*]) | Fenella Dunn |
| Happy Birthday from all the agents at HWAe | Susan Simmons |
| Happy Birthday 🙂 | Jose Alfaro |
| Happy 80th Birthday to you, a real american hero! May your birthday be as amazing as your life has been! | NikkiD66 |
| From the moment I "saw" you on the moon from my back patio in 1969, to when you graciously guested on my show in 2009… I knew you were a man who was… and IS… changing the world. You are truly a rocket hero, and I can't wait to see how else you will | Pamela Atherton |
| happy birthday from connecticut | Ray |
| Happy Birthday!! | Adrian Brackin |
| Happy Birthday Buzz! You are my childhood hero and always will be. Please don't give up on space exploration. All the best for many more years to come. | Dirk Lammerts |
| HAPPY B-DAY, Senor Buzz. Saludos desde Mexico. | Jose Torres |
| Happy Birthday, Buzz! What a remarkable contribution you have made to all our lives. Thank you for being a great advocate for science and space travel. Enjoy your day! | Gail |
| I was less than a year old when you made history by walking on the moon. Thanks for a lifetime of inspiration. | Jamesey |
| Happy birthday, sir, and many, many happy returns! | Mark Hennessey |
| Happy B-Day! Have a great one! | Kim Wedow |
| Happy birthday Buzz! | Marco Olivetti |
| Happy Birthday Buzz! You're an inspiration to us all. | Doug Forrest |
| Happy Birthday and Vaya con Dios, Buzz | Bill Schreiner, Achieve Radio |
| Happy birthday Buzz, warm greetings from Buenos Aires, Argentina! | Fernando |
| Happy Birthday, Dr. Aldrin! Your walk on the moon was the highlight of my youth. | Eric Johnson, CDR, USN (Ret.) |
| Happy B-day Buzz!! It's an honor to congratulate you on this day!! Have a good one! | Tania Goicoechea |
| Happy 39th yet again! You're such an overachiever you make me jealous! Many more to you. | Matt Snyder |
| Happy Birthday – to one of the chosen few that have inspired millions. | Greg |
| I wish you all the best Mr. Aldrin, you are an inspiring figure. Thank you for your courage and hard work. Hope you have a very, very Happy Birthday. | Chiara |
| Happy Birthday! | David Crotty |
| Best wishes to a real hero | Julie Flegal |
| God grant you many years! | Christopher Gorski |
| Happy Birthday! Thank you for being so kind to my kids at the Southern Festival of Books this October. Hope you'll read my article about it at http://www.mibwritenow.com/2009/11/to-infinity-and-beyond.html You were more than patient with my daughter & t | Myrna I. Brown-Kainth |
| Very Happy 80th Birthday. This has been such an exciting year! | Greta Dorfman |
| Happy Birthday! God bless. (Remembering tales of your days at Johnsville NADC riding the "beast" – my dad, Harold Doerfel, helped train you guys on that.) | Debbie Doerfel |
| Happy birthday rocket hero!! | Alessandro |
| Happy Birthday Mr. Aldrin! You are my hero! | Francesco Santagostino |
| Happy Birthday Dr.Aldrin ! I wish you all the best,especially healthiness.Many times,I remember back to my meeting with you in London in October 2005.It was a great experience for me and a dream was fulfilled.I hope to meet you sometimes again.Best from S | Helmut Heisig |
| Happy Birthday!! | Mauro Maiano |
| take care boss! | Gianluca |
| Happy Birthday, Mr. Aldrin. And thank you to have helped the mankind to know more about the Moon and the space. | Vincenzo Manzoni, Italy |
| Hi, you paved the way for us. Thank you. | Speedbow |
| Happy birthday! Many wishes for 80 more years full of achievements and happyness | Paolo |
| HAPPY BIRTHDAY BUZZ | Mick Pope |
| dear buzz , my name is denny i'm born on 20.january 1975 in germany. you are my hero!!!!!! ich wünsche dir alles alles gute zum 80. geburtstag und das du deinen seelenfrieden findest. you are deep in my heart. i love you | denny mähler |
| thanks for breaking the human limits, and remaining human | Anonymous |
| Grandissimo uomo!!! Happy birthday Buzz!!! | Paolo Andrea |
| Buon Compleanno dall'Italia Uomo della Luna! | Dario |
| Happy Birthday, Dr Rendezvous! | Roberto Ajolfi |
| happy birthday Buzz! | Marco Nardi |
| Happy Buzzday 🙂 | Daniele Orlandi |
| Mr. Aldrin … HAPPY BIRTHDAY from Italy to the greatest rocket hero! | Leonardo Roda |
| Happy birthday, great man! | roberto |
| HAPPY BIRTHDAY! | Maurizio Giunti |
| Not just a year older, but a year better. Happy Birthday Buzz! | Tait Denis |
| Happy Birthday from Italy | Andrea Galli |
| happy birthday from Italy!! | maia |
| Happy birthday. You will always be MANKIND | Antonio De Rosa |
| Happy Birthday!!! (from Italy!) | Chiara |
| Your achievements and those of your team continue to inspire my 5 yr old son who, watching the moon smiling down on a starry night, knows anything is possible. Enjoy the party Buzz! from Rory & his Daddy | Brian O'Sullivan |
| Happy birthday Buzz! Fly me to the Moon! | Cristian Riccardi |
| happy bithday buzz | Guido |
| Happy Birthday Buzz!! When we'll see you on Mars? Cheers! | Salvatore |
| Happy Birthday, Hero! | Edoardo |
| Tanti Auguri dal Lago di Como! | Giuseppe Alfonso Toniolo |
| Happy Birthday, dear Buzz! You are and will be our "magnificent inspiration"! Thank you! Live long and prosper. Respectfully yours. | Frederic Dieudonne |
| Happy 80th Dr. Aldrin I will always cherish you punching Sibrel in the chops ! | Terry Lebermann, Okla. city |
| Happy Birthday MOON WALKER | Rajan Purewal |
| Tanti auguri | Roberto Ferrero |
| Happy Birthday Buzz you'll always be my hero! | Carole J Chauncey |
| Your eyes saw thing we'll never see… Happy Birthday, Buzz! | Luigi Morielli |
| Happy 80th Birthday! Have a wonderful day. Best wishes for the next year. | Carol Lisicandrello |
| Happy Birthday !!!! | Adolfo Riva & Family |
| Happy Birthday!! thanks for making the dream true | Dario Greggio |
| Happy birthday! | Davide |
| happy birthday Mr. Rocket Man 🙂 | elio |
| Buon compleanno, Buzz 🙂 Happy birthday | Gabriella Gregori |
| Happy Birthday Buzz | Roberto Giusti |
| Happy birthday, Buzz. | Roger Launius |
| thanks to all those men who made greater the border of humankind possibilities. Happy birthday, Mr. Aldrin! | Paolo Marcoz |
| Happy Birthday Buzz! | Andy Smith |
| To infinity, and beyond! Happy Birthday ! | Marco Fossen |
| Thank you for all you have done to make America the best country in the world to live in. Happy Birthday to you, may you be blessed with many more | Joyce Collier |
| Happy Birthday Mr.Aldrin!!! You are the proof of the human greatness!!! | Antonio (from Italy) |
| Hi Buzz, Happy Birthday! All your friends at Hasselblad would like to wish you well on this special day. Everyone still talks about how special you made our event at the Space Center last year. We look forward to doing it again for the 50th Anniversary | Mark Duhaime- Hasselblad |
| Happy Birthday Buzz! | Paula |
| Happy Birthday Buzz! Hope this is your best year ever! | AJ Herreman |
| Nice Job,sir.I am writing an article in a magazine and i am mentioning you. | Ajay Kumar |
| Happy Birthday Buzz!!!!!!!!!!! | Rick Hill |
| To an amazing man, a true pioneer of tremendous courage, strength, and resilience–and a great storyteller! Happy Birthday, Buzz! | John Glusman, Shaye Areheart, and all of your friends at Harmony Books! |
| happy birthday big guy | Nate Archibald |
| You'll outlive us all!!! | Frank Sietzen |
| Meilleurs voeux (best wishes) for your birthday, Mr. Aldrin! Your adventure back in 1969 is doubly important to me, since that was exactly the occasion on which my parents met (not everyone having a TV set at home in those days, in Europe anyway). So, I'm | Serge K. Keller & my wife Cécile Matthey Keller |
| Dear Mr. Aldrin, I was just a child when you landed on the moon: you were an hero for me! Happy birthday | Mauro |
| To my dearest friend, Buzz. Happy Birthday and best wishes for our great Explorer. Your innovative vision and personal dedication enabled the most amazing and remarkable accomplishment in all of human history, and inspired the world, who can now see an | Lewis Peach |
| Hey Buzz, You're a hero to many, but you've been a friend to me and I can't thank you enough. 40 years ago you took life to the moon but 80 years ago today life got a whole lot better on this planet! Cheers mate. Many more. | Rob Godwin |
| Happy Birthday! We are two of your young relatives in Sweden and we wish you all the best. Maja,16 and Alma 9 years old. 🙂 | Maja and Alma |
| Happy Birthday Buzz. You are a true American pioneer and Hero! | Larry Capps |
| Ciao Buzz, tanti auguri con tutto il cuore! SEI UN GRANDE!! | Massimo C. |
| HAPPY BIRTHDAY BUZZ!!! | Simone |
| Happy Birthday, Buzz! I'm a huge fan of the US Space Program! | Barb Malone |
| Many Happy Returns Buzz. Love to you and Lois, Have great day! | Richard & Marietta Godwin |
| Happy 80th birthday to a very special guy. Going back in the family line I believe that we're related on the Enberg side.Emma Irene Enberg Sandstrom was my grandmother. We're still doing research and if you're interested I'll be happy to give you my cousi | Pat Ordway |
| Happy Birthday Buzz – I saw you at Goodwood in the UK in September 2009 and having followed Apollo 11 so closely as a small child the opportunity to see and listen to you within a few feet of me at this event was a great highlight and reminder of the ins | Andrew Savage |
| Happy Birthday Buzz! And many more. | Ed Hoffman |
| happy birthday! Thank you for all you have done! | drayton krikpatrick |
| Happy Birthday at school i am doing a report on you and my teacher told us that she went to school with your daugher | Tessie lombardi |
| happy birthday. my teacher went to school with your daughter | john elbert albritton II |
| Happy Birthday you are so awsome and i love learning about you I hope you have a great birthday | Alyssa |
| Happy Brithday Buzz Aldrin | Carmelita gamez |
| Happy Brithday Buzz! Hope You Have A Really Good 80 Brithday! | Mikaela Cline |
| Happiest of years to you! | The Cook Family |
| Buon Compleanno! | Lorenzo Ferrazzutti |
| Hallo Buzz, alles alles Gute zum Geburtstag, vor allem ganz viel Gesundheit und ganz viele dicke Geschenke:-) | Rolf Becker, Germany |
| Happy Birthday and Best Wishes from The Harry Walker Agency! | |
| 80 times Happy Birthday!! | Martina Pelosi & Marco Zuppiroli |
| Ciao Buzz, grazie per averci fatto sognare e per averci portato sulla luna. | Andrea (wuti) Aleardi |
| Happy Birthday Mr. Aldrin .Thanks for letting us dream | Costantino |
| Auguri!!!!!!!!! | Ivan |
| Happy Birthday, Sir! | Barbara Forbes-Lyons |
| Dear Buzz, As you celebrate the 41st anniversary of your 39th birthday, you have all the bounce in your step that you did in 1969 on the moon – and in 1949 at the end of a high jump run and leap … YOu astound, inspire and lighten our every day … Keep | Bobby and Marina Charles |
| To a real American Hero! Thanks for your inspiration. | Russell Yeagley |
| Happy birthday Buzz you are my favourite astronaut from Kyle age 9 in Scotland | Kyle Hicks |
| Happy Birthday, Buzz. Keep up the good work. I count you as one of the blessings of this world. Many more happy years to you and your family! | Phil Albee |
| Happy Birthday Buzz!!!!!!!! | Dino |
| Happy Birthday Buzz, real American hero. We love you. | Clay |
| Happy Birthday!!! Best wishes from Brazil!!! | Fernanda Rabello de Oliveira |
| Happy Birthday Buzz. You are my hero. Keep it up for 80 more. | Joslyn Todd |
| Happy Birthday Buzz! I've just finished reading your original biog from 1973 – fascinating! about to start the new one this week… | Shane Carter |
| Happy Birthday you ole Buzz-ard! 🙂 | Ryan Sporer |
| You were my childhood hero, and my uncle (worked at KSC) called you the nicest man he knew. Happy Birthday, Buzz! | Bob Dehnhardt |
| Happy 80th Birthday from a physicist now in Canada | Brett Gaskin |
| Happy birthday, Mr. Alrdin! You are a huge inspiration the world over and I hope you and yours celebrate a wonderfully memorable birthday! | Brendan Mowat-Smith |
| Congratulations! Find it hard to understand you're 80! | René van den Abeelen |
| Happy Birthday Buzz! You really are a hero. | CD |
| You are an inspiration to all dreamers, and a true American icon! Happy Birhtday Buzz! | Shellie Howard |
| wishing you the best on your birthday. | angel figueras |
| Great to see someone doing things at 80 and not just sitting and staring out of a window (unless that window happens to be on a space shuttle or rocket!). Happy Buzzday! | Justin Hill |
| Have a great one! | Robert Smith |
| Happy Birthday to one of the world's greatest heroes! | Patricia Russell |
| Happy Birthday Buzz! | Laura Pipe |
| Congrats, moonman. Have a great day… | Lars Helge Rasch |
| Happy birthday buzz! You inspired me so much and even though I'm growing up I still want to be like you 🙂 | Jack Sheaf |
| Happy 80th Birthday Buzz. It was a pleasure and y privilege working with you in April 2008 at JSC for the book project. We are now in the final discussions for the project with you at ILA 2010 in Berlin. I am looking forward working with you again! Best w | Gerhard Daum |
| Happy birthday to one of my heros and a lifelong badass! | Jeff Strain |
| HAPPY BIRTHDAY BUZZ – STILL REMEMBER WATCHING YOU ON BLACK AND WHITE TV IN 1969! | LUCY |
| Happy Birthday! | Heidi |
| Happy Birthday Buzz | Daniele |
| You share your Birthday with my Mother, so It certainly is a great day!! Happy 80th Buzz!! BTW – Thanks for your continued commentary on space endeavors. Saw you on C-Span – it was great! | Sandra Paul |
| Happy Birthday! | Donna |
| Hope I'm having half as much fun as you are when I'm 80. | Dave Noland |
| Thanks for being an inspiration to me from childhood through today. Happy 80th Birthday and many more, Mr. Aldrin. Contributing to the Haitian relief cause in your name. | H. Perry |
| Thank you for your inspiration. You helped me realise that everything you dream is possible. It just takes money, time, guts, effort, dedication and perserverance. Happy birthday! | Erik Meijerink |
| Happy Birthday! Thanks for continuting to share you passion for space and its exploration! | Chandra |
| Happy Birthday, Buzz!! | Tom Madigan |
| Wishing you a very happy birthday, watched you on the moon as a little boy – a special memory. | Jimmy Fraser |
| Engine arm off.80 is in! | RobertNPowers |
| Happy Birthday, Rocket Hero. From your friends at HOMAGE. | Ryan Vesler |
| Happy Birthday Buzz! You have reached two major milestones. One on earth and one on moon. Congrations! | Patti Lacey |
| Happy 80 Mr. Aldrin! You walked on the moon and were on "The Simpsons." What a life! | Patrick Dentinger |
| Buzz, my dad worked on most of the Apollo missions and all the shuttle missions through Challenger, and from my earliest childhood he taught me about the heroes of the space program and the importance of exploration, science, and innovation. You have mad | RaeAnne Forrest |
| Happy Birthday Buzz!!! You truely are an Amarican Hero | James |
| Happy Birthday Buzz Aldrin!!! I didn't exist in -69, when you went to the moon, but sometimes wished I had seen it all live on TV. Realtime. I loved the Cape and I know you had something to do with that show. Happy Birthday to you sir, again, and many mor | Kaija, from Finland |
| Buzz, happy birthday dude… | Troy |
| The Nevin Family wishes you the happiest 80th birthday! We pray you have 100 more happy birthdays! | Angel Nevin |
| Hope you have many more. | Malcolm |
| Hi Buzz, Happy Birthday, thanks for the adventures! | Christian Baril |
| Happy Birthday Buzz! | Sean Spencer |
| Happy Birthday! The moon landing was my first memory, shaped my life and got me interested in the wonders of the universe. Thanks! Olly | Olly |
| Happy Birthday, Buzz!! You are amazing and I am so grateful that I had the opportunity to meet you! 🙂 | Jayme Taylor |
| Happy Birthday and all the best for the future! | Astrid Kuzia |
| Happy Birthday, Buzz! | Eric DeGrave |
| Only someone as badass cool as you celebrates his 80th birthday in Antarctica! Happy birthday, Buzz! | Guy McLimore |
| Happy Birthday!! | Brian |
| Feliz Cumpleaños, Maestro | al karajo |
| Happy birthday, Brother Buzz! | Mark A. Adams, Jr. |
| Happy Birthday From Brasil ! You're my hero! | Raphael Argolo Silva |
| HBD Buzz, you da man | Mark Goebel |
| Happy 80th Buzz! | Chris Katz |
| happy birthday you dont look 80 your looking great | sage busch |
| Happy 80th Birthday! You were walking on the moon the year I was born and I've been hooked on space exploration ever since!! Have a wonderful and blessed day! | Kristin Rachel |
| Happy b'day Buzz!!! | Gaurav Kakad |
| happy birthday you lucky lucky man – my dad wishes he was you! kisses xx | julie |
| HAPPY 80TH BIRTHDAY! | MIKE |
| congrats – on 80th | mdjeb |
| Happy Birthday, Buzz! You've given inspiration to countless lives, including my own. | Kevin Ostlie |
| Happy Birthday Buzz! | Scott Anderson |
| happy 80th birthday to a true pioneer and modern day hero! thank you for leading the way for many generations to come! | jessica jensen |
| Hope you have an amazing birthday! | Christy |
| Happy B-Day Buzz…2 infinity & beyond… | Jeff Gibson |
| Happy Birthday Buzz! Your one of my heroes! | Michael Deering |
| Happy 80th! Thanks for all you have done for the cause of space exploration. | Karl Anderson |
| Happy Birthday Buzz! Way to go! | Steve |
| Happy Birthday Buzz! Celebrate 80 big and in style. | James Green |
| Happy Birthday Buzz! Keep up all the good work, and come back to the UK soon! | Mike Constantine |
| Happy Birthday from everybody at Funny or Die! We're listening to 'Rocket Experience' all day today to celebrate! | Funny or Die |
| Happy Birthday! 🙂 | Lindsey Smith |
| Happy Birthday, Buzz! We here at Popular Mechanics wish you the moon, and Phobos, and, of course, Mars… | Jennifer Bogo |
| Happy birthday from the West Midlands of the UK, Buzz – and where can I get one of those awesome Rocket Hero shirts? | Philip Whitehouse |
| Happy Birthday to you sir. | William Benton |
| Auguri ad uno degli eroi del nostro tempo =D | Giorgio |
| Conratulations Buzz, my father gave me his name because when you walk on the moon and he learned that I was born | audrin |
| Happy Birthday, Buzz! I was watching in 1969 and I am still a fan! Always wanted to know if you wrote your name in the moon dust…like "Buzz was here". | Jay Stearns |
| Happy birthday Buzz, you are an inspiration to whom I look up to everyday! | Sumit Gupta |
| Happy 80th Birthday from Brazil! | Omar Guazzelli |
| Happy 80th Birthday to one of my heroes. Thank you for all you've done and all you continue to do. Have a wonderful day!! | Mary Ellen Hamm |
| Happy 80th! You have been and continue to be an inspiration and role model to 3 generations in my family. Thank you! | Regan Shaw |
| Happy birthday, mr. Aldrin. And a starry starry year. | Eduardo Garcia |
| Happy Birthday Buzz! Wish you could celebrate it at Tranquility Base | Bill Callaway |
| Happy birthday, Buzz! Thank you for all that you have done! | John Whiting |
| Colonel Aldrin- Happy Birthday! Thank you for what you have done and continue to do to insure our nation's leadership in space. | John Riney III |
| Happt Birthday dude!!! | cyndi |
| GODSPEED FOR YOUR NEXT 80! | TERRY MCCLINTOCK |
| happy birthday from holland | saskia |
| Dear Mr. Aldrin, the best congratulations to your 80th birthday wish you from Munich/Germany Christian Kempinger. Live long and prosper | Christian Kempinger |
| Wishing you the best!!! | Cliff Hochman |
| Keep on keepin' on Moon Man. Happy birthday and many more happy returns. | Kirstie Bray |
| Happy, Happy Birthday!! Keep up your passion:) | Johnnie Chamberlin-Brooks |
| Happy Birthday Buzz,Great Man, Great Legend | Ross Brooker |
| Happy Birthday! | Eric Uram |
| happy birthday | Stefano Bardelli |
| Happy birthday to a true hero! | Jason Levine |
| happy biurhtday 🙂 i have been learning about you at school today. | chloe olney |
| Buzz – you look great – here's to another 80! | Robert Valente |
| Happy birthday, and may you have many more! | Catherine |
| Happy Birthday Rocket Man! Thank you for your service to science, to your country and to the world! | Lori Kincses |
| Happy Birthday Buzz! You represent a time and a set of accomplishments that I wish the US was able to recreate | Jeff Owen |
| Happiest Birthday, Rocket Man! You are a HERO!!! | marisa |
| Happy Birthday Buzz! I enjoy your tweets! | Della Darling Galvin |
| Happy b'day Buzz! You continue to be a huge inspiration. | James |
| Happy Birthday!! You're considered a hero to many!! | Brett B. |
| happy birthday to a brave man | lynne murphy |
| Happy birthday from Niagara Falls, Canada, Buzz!!! | John Robbins |
| Happy 80th birthday from everyone at Fight For Children in Washington, DC. Thank you for being an inspiration to kids everywhere to reach for their dreams! Come visit us in DC soon! | Fight For Children |
| You are the moon! | Jeff MacKay |
| You are a legend and hero to all from now until eternity! Wishing you a phenominal 80th birthday! Kindest regards, Laura Brett (Toronto, ON Canada) | Laura Brett |
| To Buzz, who "moonwalked" before Michael Jackson: HBD! | Evelyn Caro |
| Happy Birthday you old Spacer! I still owe you a DVD. | Paul Graham |
| Happy Birthday Buzz! #2 astronaut on the moon, #1 with a right hook! | Chris DiBona |
| happy birthday buzz! were doing a project on you today!!! | your #1 fan |
| Happy Birthday to our hero. not only the moon will remember you | Gianluca A |
| Happy 80th birthday, you have always been a hero to me | Magne Paulsen |
| Happy birthday and many more to come. | David Miller |
| Wishing you a happy 80th birthday x | Jenny and Josh Hill and Charlie C. |
| Happiest of birthdays to a GREAT American hero, patriot and wonderful person!!! | John Gunselman |
| Happy Birthaday Buzz you have always been a hero of mine | Tom |
| I hope you have a wonderfully happy birthday! | Sarah Heisler |
| Happy Birthday Buzzer, to my best friend who ever walked on the Moon & many more! | Robin Snelson |
| Happy Birthday Buzz! | Bob Atwater (Steve Fossett's Buddy!) |
| Wow! Happy birthday from Italy, Buzz! Thanks to you, when I was a child I dreamed the Moon every night for many years and became an Astronomy fan! Marvelous! | Sal |
| You're just the greatest! Hope your day is, too! | Janice G. Augustus |
| Happy Birthday to you Happy Birthday to you Happy Birthday dear Buzz Happy Birthday to you! Have a great 80th | Billie Blanchard |
| On this day -29,220 revolutions of moon ago, you were born. With that being said, Happy 701,280 hours (and counting) Birthday Mr. Aldrin… | MarcJohn 'MJ' Galera |
| Happy Birthday! | Ann |
| We are looking forward to a birthday rap! Happy birthday from all of us grateful space cadets. May the next 80 have as many adventures as the first 80! | George Whitesides |
| Happy Birthday, very nice work you have done in yor live, To be continued…! You are an Idol | Klaus |
| Happy Birthday!!! | Michelle |
| Happy Birthday to the greatest moonwalker of them all! you have been and continue to be a shining example of what mankind is able to achieve if it sets its mind to it. We wish you many more moons! With love- Walter, Lynn, and Chloe De Logi | Walter, Lynn, and Chloe De Logi |
| To Infinity and Beyond! Happy Birthday Buzz! | Greg Countie |
| Happy Birthday to the Coolest Rapper I Know! | Linn LeBlanc |
| Happy Birthday Buzz! I was pleased to meet you several years ago at a book signing in London, UK. Astronomy rules! Hope you enjoy your birthday. | Cynthia Williams |
| happy birthday rocket hero | theothermandy |
| Happy Birthday! My dad, Marty Marinoff is principal of Buzz Aldrin Elementary. He shared the link of your visit to the school which included the YouTube video of Rocket Experience, that you did with Snoop Dogg. I never knew about your collaboration until | Marissa Sweeney (Marinoff) |
| Hey Buzz, Happy birthday, Here in London we dont see the stars but thanks to you we can imagine them!! you inspired me to be intereseted in Astronomy as a child.. and at 42 i am still fascinated.. Thankyou ..hope Antartica was inspiring.. If your ever in | Phil Harris |
| Birthday Wishes from your friends and colleagues at AIAA! | Susan Goldstein |
| Happy birthday, Buzz! Hope to see you in Atlanta soon. Loved the new book! | Dave Thompson |
| Happy Birthday Mr Aldrin | ursusbruno |
| Happy Birthday Buzz! Thanks for inspiring us! | Stacey Brooks |
| Happy birthday! | Tim Chemacki |
| You where always one of my heros. Happy birthday Col. Aldrin! | Maria Larre |
| Happy 80th Birthday | Janet Lambert |
| | |
| Happy Birthday Buzz Aldrin! From Norway! | Martin Andre Giskegjerde |
| Happy birthday, Buzz! Seems I'm just one day off sharing a birthday with one of the planet's greatest living heroes! | Darryn Mercer |
| I wish you all the best for your B.day. Thank you for what you did. | Mathias Sander |
| Happy Birthday! Hope you have a great year. | Latanne Steel |
| Happy Birthday! | Amina |
| Happy Birthday from Vicenza (Italy) ! Thank you for your bravery ! | pierchiodo |
| Happy Birthday Buzz. Here's hoping that they send you back into space!!!! | Jason Rice |
| Mike, Rory, Ted & I wish you many happy thoughts & lots of future B-days!!! | Kate Kronmiller |
| For my Rocket Hero I wish you the best birthday ever! | Antonio de la Cerda |
| Happy Birthday Dr. Aldrin! | Sincerely, Veronica Crowley |
| Buon Complenno e grazie | paolo |
| Happy Birthday, Buzz! Hope it is a wonderful year! | Dawn and Lou Antonis |
| Happy birthday, the penguins were all dressed up for it! | Kenneth Ransom |
| Simply… Happy Birthday!!! | Alessandra |
| C:\Users\Ely\Pictures\BUZZ\image-1.jpgBuzz- Happy Birthday! I'm from Montclair & this is my Dad going to "fit" you with football cleets. He will be 90 in April! | Steve Ely |
| I'm honoured to be able to give Birthday wishes to a living legend. Not only one of the greatest living explorers, but a worthy champion of space exploration. Buzz Aldrin – Explorer, hero, and one of the last real men around. Happy Birthday Sir! | Richard G.Jewell |
| Happy Birthday Buzz your landing on the moon for me was also historic in my eyes too. I was only seven but I remember it like it was yesterday. I have watched every lauch since then! | Michael Teepell |
| Happy Birthday Dr. Rendezvous. | Tostao |
| Happy birthday, and thanks for the inspiration! | Corky Visminas |
| Your friends at Fox News Channel wish you a very happy birthday! | clay rawson |
| Happy birthday to a real-life Superman. You are greatness redefined, and what you and Apollo 11 accomplished changed the trajectory of humankind and ensured our survival into the future. Thank you! Back here on earth, wishing you a long and happy life. | Bobbie Volman |
| We hope you have a great birthday! It's great to be friends with you on FB. We are glad our Nana is friends with you . What you have achieved in your life time is awe inspiring. God Bless you for all that you have done. May you have many more Happy B | Peg Meddaugh and son Tyler (8 yrs old) |
| Happy birthday, Buzz! You and the other Apollo astronauts were my boyhood heroes! | William Jorns |
| Happy happy birthday and thanks for the inspiration! | Todd |
| Happy B Day | Erick Ries |
| Tantissimi auguri ad uno degli ultimi grandi eroi della storia moderna! | Cristiano Merati |
| Hey Buzz! You're an inspiration to reach the goals one has, hope to meet you once! Best wishes! | Mick |
| Let's go to Mars! Have a great birthday, Buzz! | Matthew Guthmiller |
| Happy Birthday from Tuscany, Buzz. No moon here, this night. Maybe she's with you for a party? | Lapo Gialluca |
| Happy Birthday! May you live to 120! | Cindy Cohen |
| Happy Birthday Buzz. You are an hero for the humankind. | Federico |
| Many Happy returns, I hope you have a wonderful day. | Linda |
| I hope your birthday is as special as you are! | Xena |
| Happy birthday from the netherlands | Bart |
| YOU"RE THE BEST! COME TO PENN STATE! | Pat Howley |
| Very happy birthday from Italy | Angelo |
| Happy Birthday to an amazing guy! | Tonya Hayworth |
| Happy Birthday Buzz. You are, as ever, an inspiration. Hope this next orbit round the Sun is a wonderful one for you. | Catherine Qualtrough |
| All the best to you Buzz!!! | Chuck Adams |
| Happy Birthday Buzz! Your excitement for life motivates me to further future sciences. Thank you for your life's work and contributions to discovery. I love you! Happy Birthday Handsome! | Catherine McKee |
| Have a Happy Out of This World Birthday. It was great meeting you at the Cradle of Aviation Museum on Long Island. Thanks for signing your book and answering my question on how long you were on the moon. I am doing my 3rd grade report on you. Hope to hea | Joshua Stumm |
| Live long and prosper – the world needs more pioneers like you. Happy Birthday! | Bertie Kennedy |
| Happy 80th Orbit since Birth! | N.Branch |
| I cannot believe I am here wishing YOU, Buzz Aldrin* HAPPY BIRTHDAY. I would give you the Moon, but you gave it to me first. Swooning ; ) with utmost admiration, : ) …am I dreaming? Your friend to Infinity, Tammy Anderson Parker | Tammy Anderson Parker |
| Happy Birthday, Buzz. | Arden Rathkopf (age 4) |
| You are that kind of man who give enthusiasm to others and make all of us proud to be a Human. My Best Wishes! | Antolin Martinez |
| Happy Birthday Buzz. I was in Palm Bay Fl July 20, 69 watching you on my parents large black and white Motorola. Only 30 miles away we could feel the ground shake when you lifted off. My dad was an engineer working on telemetry antennas for you. I've enjo | Stan Weyer |
| Happy birthday, steely eyed missile man! | Dan G |
| Happy Birthday, Dr. Aldrin. I appreciate your autographing Magnificent Desolation at the Marina Del Rey Costco recently, and hope to attend your next signing as well…that goes for all of your next dozen or so books, as well. Best Regards for a joyful an | Paul Clay |
| Happy Birthday from Tucson, AZ! My brother has original pictures of the lunar landing one of the astronauts gave to my grandmother, who was the vice consul of the Mexican consulate when you traveled to Mexico. Take care! | Mayim Stapleton |
| Happy Birthday Dr. Aldrin! | Ryan Kobrick |
| Happy birthday! You made space exploration more interesting than my science teachers did! | Mike Smith |
| Happy Birthday | Ben Wiggins |
| Buzz, Wishing you all the best as you celebrate your .8 century! | Barbara Adde |
| Happy birthday BUZZ !! | Fernando Santos Ramirez |
| Happy Birthday, Buzz!!! You truly are my "rocket hero!" 🙂 | KJ McLean |
| BUZZ, I am so honoured to be your FB-Friend and to have the chance to CELEBRATE your Birthday wich i do on my page today, THANKYOU for all you´ve done, all you do and all you are, With wishes of joy and happiness for you BUZZ, HAPPY B-DAY, Anna Wennerhol | Anna Wennerholm |
| OMG….Happy Birthday Mr. Aldrin, You are an inspiration to all. I hope you have a great birthday. | Ellen Harrison |
| Happy Birthday Buzz!! Make it a good one! | Kimberly |
| Dear Mr. Aldrin ~ Hello, my name is Max and I am eleven today, January 20th. We share a birthday which I think is epic. I hear you are 80 today. Happy Birthday! A few years back you signed a copy of your book Reaching for the Moon for me. Thank you so | Max Sechelski |
| Happy birthday, Buzz | Clayton Moore |
| Have a Great Birthday Buzz!! Your exploration of the moon inspired me to get my Ph.D in geology and apply for the astronaut program. Thanks for your service to this country. | Frederick Stumm |
| Happy Birthday Buzz!! Thank you for all you do! | Daryl Maxwell |
| Happy "Buzz Aldrin" Day, Buzz. Congrats on 80 inspiring years. Ad Astra! | Rob Adams |
| woohoo 80! | isabel |
| Happy BD to a real American hero and living legend! | todd heup |
| may their be menny more | kenneth |
| Your inspirational leadership moves worlds, Buzz. Happy Birthday. | Stan Rosen |
| Happy Birthday, Dr. Rendevous! | Don Moffatt |
| Dr. Aldrin – A very happy birthday from all of us at Mark Burnett Productions! | David Eilenberg |
| happy birthday to 1 of my hero i just fond out that we have the same birthday cool | Robert V Mcbaryer III |
| hi buzz! i just finished your book, magnificent desolation, today! | corey okada |
| Happy Birthday Buzz your one of a kind!!! | Raymond |
| Belated happy birthday! | Suzanne Rebert |
| Hey Buzz, Happy 80th! Have a rocketing good time. | Rob |
| God bless you! – Dio ti benedica! | Giovanni Battista Mura |
| Happy Birthday Sir, Congrats on hitting 80 Keep shooting for the century mark!!! | Kenneth Weber |
| Happy Birthday Buzz! | Thomas Matula |
| Happy Bithday Buzz! From Becky and the team at Total Licensing. | Becky Ash, Total Licensing |
| Auguri! Thanks for last year's fantastic interview. You're a great man | Silvia Rosa-Brusin |
| Happy Birthday! Thank you for inspiring budding scientists everywhere! God bless 🙂 | Sarah, who's dream's always been to see Earth from Space! |
| tanti auguri uomo della LUNA | Vittorio |
| Dear Mr. Aldrin, I wish you a all the best for your 80th birthday. Since you walked on the Moon you inspired my life! | Andreas P. Bergweiler |
| Happy Birthday!! | Fabio Angelucci |
| The original space man best for the next 40 years | Steve |
| Happy birthday, Buzz! | Riccardo |
| Have a very Happy Birthday and many more of them, love from Cambridge UK | Jill Crossley |
| happy birthday sir……… | Roy |
| Happy Birthday to a true hero. | Paul Mathur |
| Celebrate! | Patty and Scott Carpenter |
| HAPPY BIRTHDAY SIR | JAMES |
| happy birhday mister buzz | gianluca e gabriele atti |
| happy birthday professor | mark sterns |
| u r my role model buzz. Godspeed!! | Ankit Kumar |
| BUZZ, YOU HAVE DONE WHAT SO MANY OF US DREAM—-thank you for your triumph & thank you for your endurance beyond!!! | dawn saliba |
| happy birthday Buzz, funnily today is also M birthday !! i was born 21-GEN-but in 1968 and my mother said that while You landed the moon i was sleeping !! but her destroyed the sofa with fingernails !!! | Franco |
| Have a great birthday and many, many more! | Jan DuRaine |
| Happy Birthday Buzz! | David Lane |
| Happy birthday Buzz!! Have a fantastic day. | Laurie McGee |
| Happy Birthday Hero | IcarusDream |
| Happy Birthday Buzz. I hope you had a great day! | Joseph C |
| Dear mr.Buzz, i never dreamed that i have a choice to wrote you and wish you allthe best for zour birthday, with love from Europe, Slovenija, | Mateja |
| I hope you had a very happy 80th Mr. Aldrin | lisa-v- |
| Congratulations! | Niklas Finne |
| Happy Birthday, my friend. | Dean Davis |
| hi rock | fabio |
| Dear Buzz, My very best wishes for a happy birthday and a year of happiness and good health–see you soon. Love, Lynn Booth | Lynn Booth |
| Happy Birthday Buzz!!!! | André Kjernsli |
| Gee, I'm growing shy, what can I say? In my humble opinion, surely you are a space hero, but more than this, you're such a good and decent person! Happy birthday, Buzz, and keep rockin'! | Mariagrazia Troia |
| you are the inspiration that made me become a pilot, and like you I have been diving for most of my life! | Greg |
| Alle the best for you Buzz and Lois. Hope to see you soon. | Peter Groschupf |
| Happy Birthday Mr. Buzz…from an Italian enthusiastic admirer! | Francesco Favara |
| Happy Birthday, Buzz! You took me too to the Moon! | Andrea Martinotti |
| Happy 80th Birthday Astro. Buzz sir. You are my rocket hero. 🙂 | Jimmy Fox |
| All the best Buzz you are an amazing person. | Paul Sharpless |
| Hey there Buzz! Happy 80th! | Rick Shope |
| Happy Birthday!!! | Maureen White |
| Happy Birthday Buzz, i,ve always wanted 2 go 2 the MOON like you & Neil did, well done on turning 80 ! ! ! | Carl Virkus |
| Wishing the best to a true American Hero! | Neddie Berrios |
| Hope you had a great birthday Buzz. Have many more in the future | Jimmie Martinez |
| To a legend, and a great man..HAPPY BIRTHDAY! I hope you have many, many, many more so my children can one day learn and listen of the legend himself! | David Fried |
| Happy Birthday, Buzz !! YOu are still a hero to all of us (including ME !!) | David Weaver |
| Happy Birthday or maybe happy Birthweek, from Venezuela, to my child hero when I was 6 o 7 years, the world need anymore man like you, take care buzz. | Pablo Escalante |
| Mr. Aldrin, in an age of such superficial role models, you have been among a very few that set an unbreakable precedent. Although the chances of me ever getting as far as you or Neil are slim to none, the dream of touching beyond the shoreline of the surf | Benjamin J Saffer |
| thank U SIR >SIRE enjoy | ykrem |
| Hi,Buzz, I wish you happy Birthday, keep going to 100 years old. Massive Energy from time to time. | wanchun xia |
| Best Wishes Buzz!! Get us back to the moon!! | Jeff Petersen |
| Thank you for 80 years of inspiration! | Orion Burns |
| Well done Buzz. You are a living legend! | Peter |
| All the very best. I was almost 9 years old back then and I still clearly remember your landing. Outstanding! | Frank Spartalis |
| My dear brother, happy birthday and remember : it's as important to be lighted by the sun than by the moon; in order to leave the perpendicular as to meet the vertical level. Let be our master. Brotherly regards from France. | GRANGER Jacques |
| Happy 80th.. may you have another 80 years. We and our children enjoyed seeing you on the USS Hornet in July 2009 | Jodan & Pamela |
| Happy Birthday from Rome (Italy)! | Roberto Robotti |
| I was born on the night of 7/20/69 and have always shared 'my day' with your 'small step for man, giant leap for mankind'! May there be many more happy and healthy birthdays for you! | Annebet van Weerelt |
| Happy Birthday Buzz. With kind regards and respect from singapore | emmanuel |
| Happy 80th Birthday Buzz, from all your fans in Ireland! Go n-éiri an bothair leat. (May the road rise with you.) All the best, John | John Caffrey |
| Best wishes for your 80th birthday from Cologne/Germany | Karola |
| Happy Belated Birthday!! Just found your GI Joe action figure yesterday and found out it was your special day. Hope you had a great one. Terry | Terry Bell |
| Celebrate! Enjoy your 80th orbit round the sun! Love and thanks for all you do! Gina (TPS) in Boston | Gina |
| Many happy returns Buzz!! | Tassos Syngrassides |
| Hey Buzz ! See you on the moon ? | Filip |
| Happy Birthday Buzz! I am doing a report on you! | Isabella Recca |
| Happy Belated! In the middle of "Return to Earth" right now! | Adam Lamar – Burbank, CA |
| Happy birthday Buzz! | Tom Bernard |
| Happy birthday Buzz! I was born on that magical day, when you were on the Moon.. | Marco Sanfelici |
| Happy Birthday from Italy and my family | Massimiliano Cerruti |
| Hello Mr. Aldrin! Late but from the heart. I miss you when you were in Vienna. Best wishes! | Günter Kleinschuster |
| I am an aviation artist and let me know if I could draw a portrait of you and where I could send it….Kind Regards, | Ashlie Owens |
| Happy birthday Buzz! When I read that you'd taken Communion on the Moon, I literally wept for joy. Thank you! God bless you, have a wonderful day. | Sarah Moore |
| Happy Birthday late, i'm sorry! | Felipe |
| Dr. Aldrin, Our nation is so very fortunate to have such a courageous legend to represent us in such monumental feats as you have achieved. I wish you the very very happiest of extended bithdays possible! | Paula Reynoso |
| Wish you great health and happiness!!!Kick in ass all conspirators!!!Happy Birthday! | Emil Kyostebekov |
| Thank you for your autograph back in 2000. Best Wishes on your Birthday. | Silvio Delgado Jr. |
| Happy Birthday Buzz, I work at Spacex and missed seeing you on Sat when they were throwing you a party at our site. Hope you have a great birthday, and thanks for your work as an astronaut. | Mark Baggetta |
| Happy Birthday Buzz | Mark Podlesh |
| To my childhood hero … Happy 80th birthday. Many thanks for all the excitement you gave us in your career and the education we all benfitted from your journey. What a time that was !!! God Bless. | Stephan Cheney |
| Happy birthday from Tuscany, Buzz. | Giovanni "Nanni" Cambria |
| happy birthday man of the moon! | cow |